Digital transformation is an essential part of modern business operations and its importance is only increasing with the proliferation of technological advancements and digital services. According to analysts, the spending on digital transformation is predicted to experience a compound annual growth rate (CAGR) of 19.1% in the next five years. By end of 2023, companies must be ready to adapt to this rapidly evolving digital transformation solutions landscape or risk being left behind.
What is Digital Transformation?
Digital transformation refers to the process of using digital technologies to fundamentally change how an organization operates and delivers value to its customers. This often involves the integration of digital technologies into all areas of a business, including product development, manufacturing, supply chain management, and customer engagement. The goal of digital transformation is to improve efficiency, effectiveness, and overall performance, as well as to create new revenue streams and business models.
Overcoming the Hurdles of Digital Transformation: Key Challenges and Solutions for 2023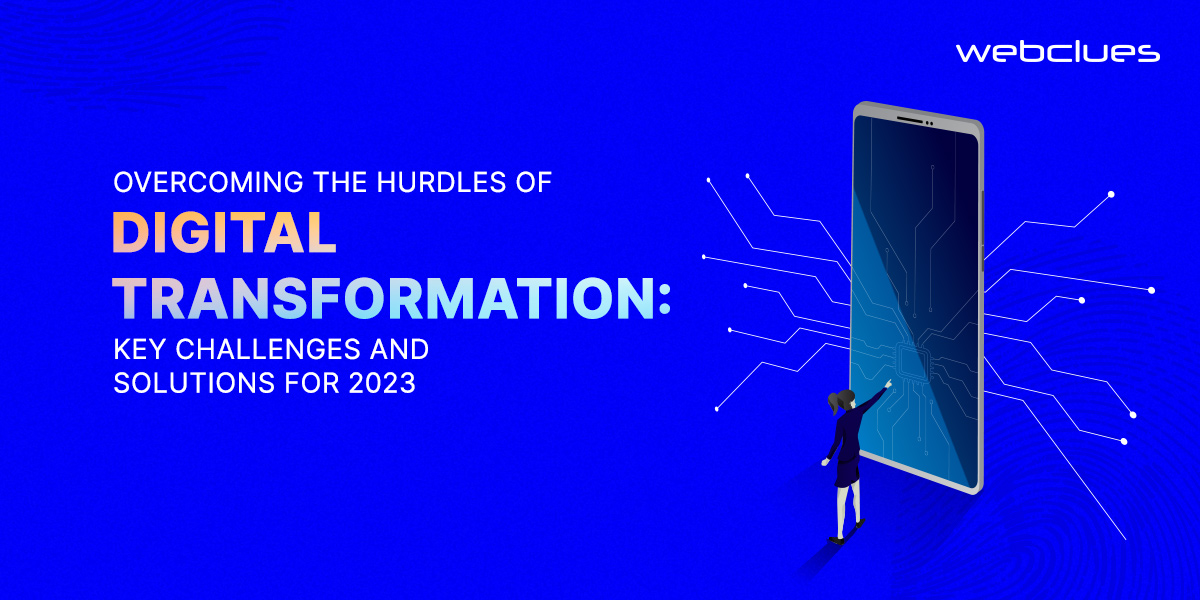 To ensure success, businesses must understand the challenges associated with this new digital world, and take steps to deploy the solutions that will help them stay ahead of the competition. The right digital transformation strategies can provide companies with the tools to maximize their potential and unlock new opportunities in the years ahead. By embracing the power of digital transformation, businesses can take advantage of the latest technological advancements, boost productivity, and increase their competitive edge.
Data Privacy and Security
Data privacy and security are among the key challenges of digital transformation. To ensure the safety of customer data, organizations need to have robust security measures in place, such as encryption, data classification, and access control measures. Additionally, organizations need to have a comprehensive privacy policy in place to comply with relevant laws and regulations and to protect customer data from malicious actors.
Adopting New Business Models
Digital transformation requires organizations to re-think their traditional business models and adopt new ones that are more suited to the digital age. This means developing new digital products and services, utilizing emerging technologies like AI, and leveraging digital channels to better engage customers.
Digital Talent Shortages
Digital transformation requires a large number of skilled individuals to ensure its successful implementation. This can be a challenge, as there is already a skills gap in the industry, and organizations are struggling to find the necessary talent. To bridge this gap, organizations need to invest in developing the skills of their existing staff and hiring external consultants to fill in the gaps.
Changing Digital Culture
Digital transformation involves a cultural shift in the way an organization operates. To ensure the successful implementation of digital transformation, organizations need to create a culture that is open to change and encourages innovation. This can include providing training to staff on the latest trends and technologies and encouraging collaboration between teams.
Siloed Decision Making
Siloed decision making can be a major barrier to digital transformation, as it limits the visibility of the whole organization and restricts the flow of information. To overcome this, organizations need to break down silos and promote collaboration between teams. Additionally, organizations need to create a culture of openness and encourage transparency in decision making.
Evolution from Legacy Systems
Many organizations have legacy systems that are not suited to the digital age. To move forward, organizations need to invest in modernizing their existing systems and transitioning to digital solutions. This requires them to invest in the latest technologies such as cloud computing, artificial intelligence, machine learning, and the internet of things.
Organizational Culture
Companies must create an organizational culture that is conducive to digital transformation initiatives. Solutions include clear communication and buy-in from leadership, training and upskilling employees, encouraging a culture of experimentation and innovation, involving employees in the digital transformation process, and aligning digital goals with overall business objectives.
Insufficient Budget
Digital transformation requires a significant budget to ensure its successful implementation. This can be a challenge for many organizations, as they may not have the resources to make the necessary investments. To overcome this challenge, organizations need to prioritize the areas that need investment and focus on developing a roadmap for their digital transformation.
Shortage of Technological Resources
A shortage of technology resources, such as expertise in specific areas or the right tools and platforms, can also pose challenges for organizations undergoing digital transformation. To overcome this challenge, organizations need to outsource the necessary resources or partner with technology companies to access the necessary tools and services.
To overcome the challenges of digital transformation, it is important to take a comprehensive approach. This includes:
Continuously evaluating and adapting the digital transformation strategy to ensure it remains relevant and effective in achieving desired outcomes.
Defining clear goals and objectives for digital transformation efforts.
Identifying and prioritizing processes, systems, and technologies that need to be transformed.
Creating a comprehensive strategy and roadmap for implementation.
Developing a governance model to ensure alignment and accountability throughout the process.
Investing in necessary technology and resources. Fostering a culture of innovation and continuous improvement.
Continuously monitoring and measuring progress. Communicating and engaging with stakeholders.
Continuously learning and adapting to new technologies and trends.
Having an agile and well-equipped team that is comfortable adapting to new ways of working.
Advancements and Trends in Digital Transformation in the Coming Years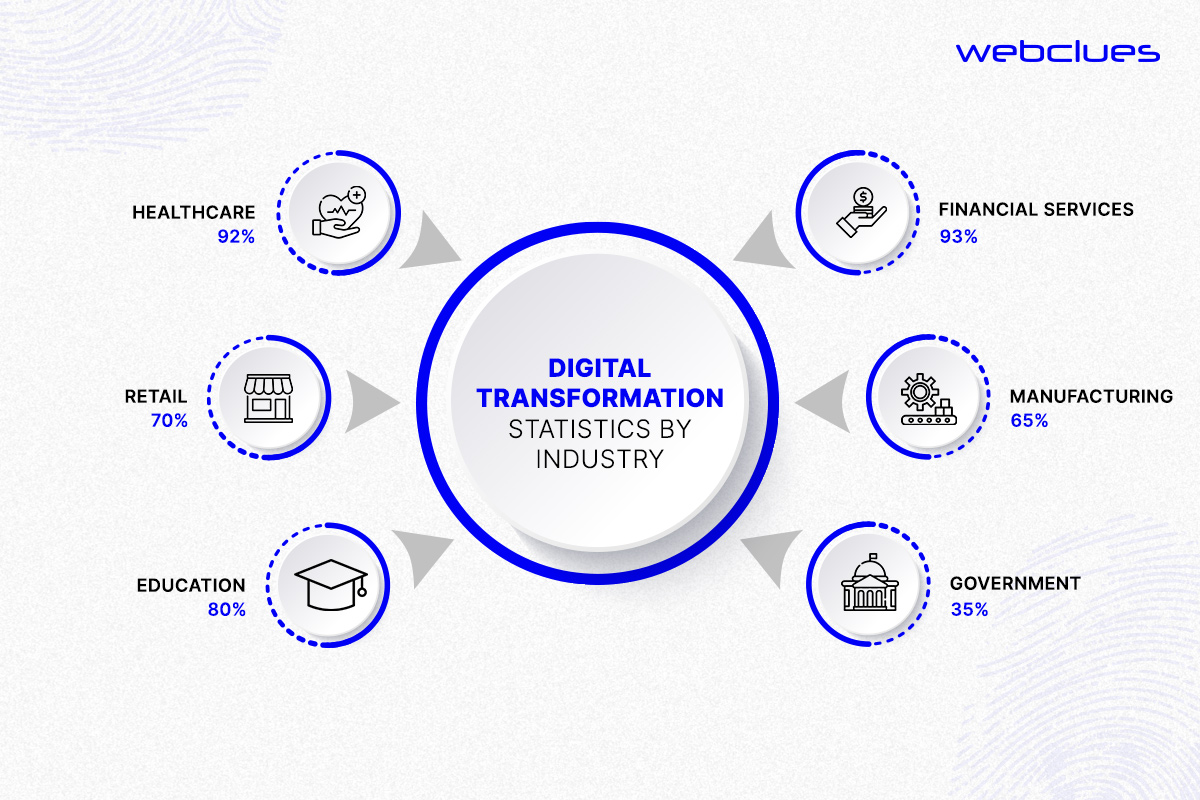 The future of digital transformation is expected to be marked by continued advancements in technology and an increasing focus on the use of data and artificial intelligence (AI) to drive business decisions and improve customer experiences. Some of the key trends that are likely to shape the future of digital transformation include:
Increased use of AI and machine learning: Organizations will increasingly use these technologies to automate processes, analyze data, and improve decision making.
Greater focus on data-driven decision making: Companies will collect and analyze more data to gain insights and make better decisions.
More use of cloud computing: Cloud-based services will become more prevalent, allowing for greater scalability and flexibility.
Increased adoption of Internet of Things (IoT) devices: IoT devices will be used to collect and analyze data from a variety of sources, including manufacturing equipment and customer interactions.
Greater use of virtual and augmented reality: These technologies will be used to improve customer engagement and product development.
More emphasis on cybersecurity: Organizations will need to ensure that their digital systems are secure as the digitalization of business increases.
Greater emphasis on digital customer experience: Companies will need to focus on improving the customer experience to stay competitive in an increasingly digital economy.
Increased focus on digital ethics: As digital transformation continues, organizations will need to consider the ethical implications of the technology they use and the impact it has on society.
Overall, the future of digital transformation is expected to be characterized by continued innovation, with organizations leveraging new technologies and data to improve their operations and customer engagement.
In nutshell,
Overcoming challenges in digital transformation is important in 2023 because it allows organizations to remain competitive in an increasingly digital economy. Digital technologies are rapidly advancing, and those that are able to effectively implement them will have a significant advantage over their competitors. Additionally, as more businesses and industries move online, it is becoming increasingly important for companies to have a strong digital presence in order to reach and engage customers.
Furthermore, digital transformation can also help organizations to improve their efficiency and cost-effectiveness, which can lead to increased profitability. Additionally, digital transformation can also help organizations to create new revenue streams and business models, which can help them to stay ahead of the competition.