In today's time, technology has become so crucial to a business's growth that no business can expect to reach its maximum potential without the aid of technology - whatever the industry. The Retail industry is no different; in fact, it is witnessing a remarkable shift with the advent of the integration of advanced technologies. Among these, Generative AI has emerged as a disruptive force, providing retailers with a transformative ability to enhance and personalize customer experiences while optimizing operational processes. Furthermore, several retail giants have collaborated with tech companies that specialize in generative AI development services in retail to leverage the potential of this revolutionary technology.
The below image shows the expected growth of global generative artificial intelligence in the retail market by 2032.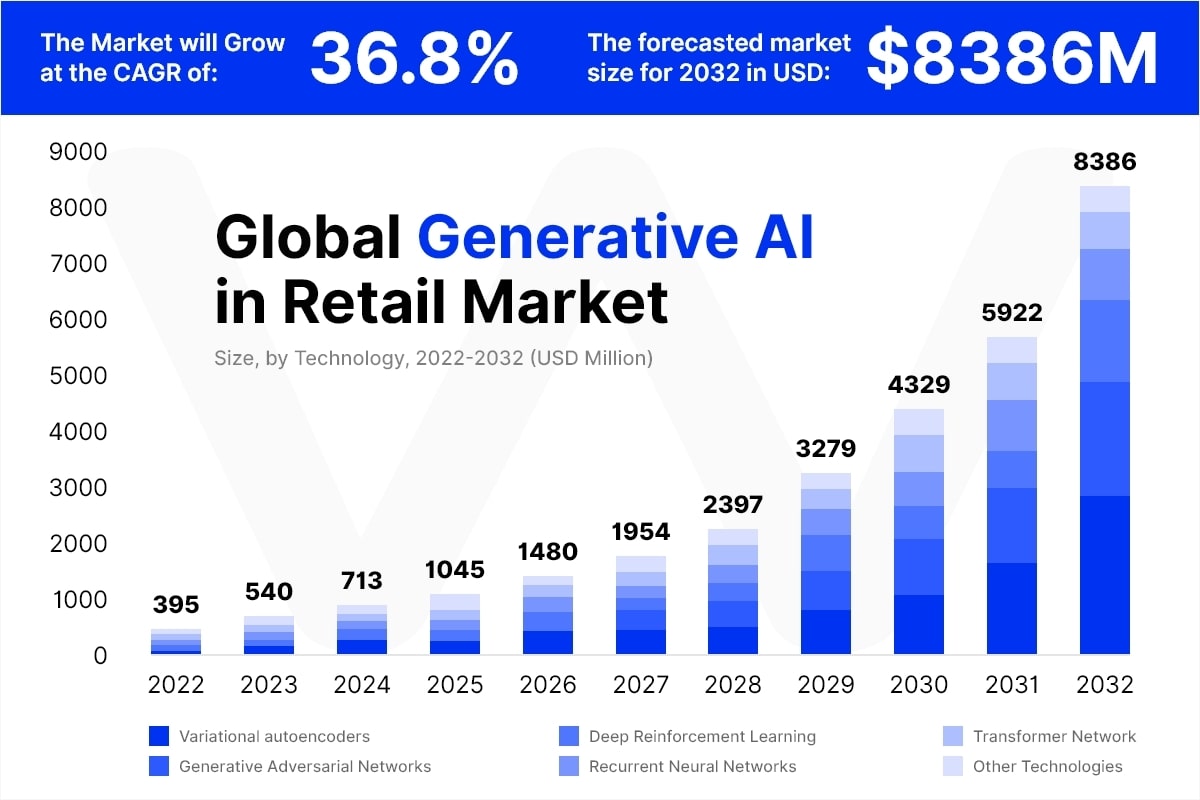 In this comprehensive blog, we will dive into the world of Generative AI in retail and explore how it is reinventing the industry, along with its benefits, and prospects.
How Generative AI Is Reinventing Retail
Though many retail businesses are still figuring out what is generative AI and its application to their organizational processes, the recent introduction of user-friendly interfaces like GPT, Dall-E, etc. has piqued the interest of retailers. But what is the impact of generative artificial intelligence in retail? Let's assess this by exploring several specific use cases across the value chain.
1. Customer-Centric Uses Cases of Generative AI in Retail
Generative AI analyzes extensive customer data, which includes past purchase history and preferences. This enables it to provide highly personalized product recommendations. Such analysis of individual patterns and behaviors in turn allows retailers to provide every customer with a tailored shopping experience that is in line with their unique tastes and needs. This level of personalization leads to customer satisfaction and loyalty as well as enhances conversion rates and sales. So basically, with generative AI churning out tailored recommendations, not only do the customers get an engaging and enjoyable shopping experience but retailers can also set themselves apart from the competition.
Generative AI can assist customers with seamless product comparisons. It can empower them with access to essential features and attributes of different products, and present them side by side in a comprehensible format. This allows customers to evaluate the similarities and differences between the products and make informed decisions based on their unique needs and preferences. This way, by providing them with detailed product comparisons, generative AI can help customers navigate the overwhelming array of choices, make confident purchases, and reduce buyer's remorse.
Real-time Inventory Check
Real-time inventory checks with the help of generative AI can revolutionize the shopping experience for customers. With AI algorithms continuously checking inventory levels, customers can get the assurance of product availability and make confident purchases, eliminating the frustration of encountering out-of-stock items. It even saves them a considerable amount of time and effort by letting them find, browse, and select the products with ease. Real-time inventory check allows for a seamless and satisfying shopping experience and boosts customer confidence and loyalty, making them more likely to return for future purchases.
Streamlined Order Placement
The integration of generative AI can make the ordering process more efficient and user-friendly. It makes the customer journey quicker and less tedious by simplifying the steps required to place an order, reducing unnecessary clicks and form-filling. The feature becomes especially useful for repeat purchases, allowing for effortless one-click reorder options. Overall, with a streamlined order placement feature, generative AI can make online shopping a breeze, enhancing convenience and customer satisfaction.
By facilitating real-time order tracking, generative AI can offer timely notifications about shipping progress, estimated delivery times, and any potential delays, providing customers with peace of mind and eliminating the uncertainty of when the package will arrive. The feature can also help address any issues promptly, allowing customers to contact customer support early on for assistance in case of unexpected delays or problems with the delivery. This allows transparency in the order fulfillment process and ensures a positive shopping experience.
Utilizing advanced algorithms, generative AI can provide customers with personalized assistance in processing returns and refunds. When seeking a return or refund, it can analyze a customer's purchase history and the specific reason for the return. It can guide them through the necessary steps, ensuring a seamless and personalized experience. It can even help minimize the hassle of returns and maximize satisfaction by suggesting suitable alternatives or resolving the issue proactively. This way, generative AI can effectively streamline the return/refund process by making it convenient and customer-centric.
With an efficient store locator feature generative AI can help customers find nearby physical stores easily. Customers can simply enter their location and the AI algorithm can quickly generate a list of nearby stores carrying the products they are interested in. Alongside the location of the store, it can also provide additional information such as store hours, contact information, and directions. This enhances convenience and connects customers to physical stores, bridging the gap between online and in-store experiences.
Product Availability Alerts and Personalized Discount Notifications
Generative AI systems are capable of providing personalized productivity alerts to retail customers by analyzing historical data and informing them when an out-of-stock item becomes available. It ensures that a customer never misses the opportunity to purchase a product, even if it was previously out of stock. Furthermore, it can analyze a customer's browsing and purchase history to send personalized discount notifications on products they are likely to be interested in. By catering to customers' personal preferences, generative AI can help make the shopping journey more engaging, rewarding, and satisfying.
Generative AI algorithms can make customer loyalty programs more targeted and relevant. The AI system can make loyal customers feel more valued by offering them tailored rewards and incentives. It can also track their loyalty points, send reminders for available rewards, and provide real-time updates on accumulated benefits, ensuring a smooth redemption process. This way, by providing personalized loyalty program support, generative artificial intelligence in retail can help customers foster a strong bond with the retailers.
2. Business-Centric Use Cases
Generative AI has the capability of revolutionizing business for retailers by automating and streamlining multiple facets of all their primary organizational processes. Let's explore department-wise use cases of generative AI in retail that can transform the way retailers conduct business.
Generative AI can aid retailers transform their business operations, primarily through work automation, real-time inventory visibility, and demand forecasting. Retailers can harness the power of AI to automate repetitive tasks like order processing, inventory updates, and customer service. Generative AI can even provide retailers with crucial, real-time inventory insights, enabling proactive inventory management, minimizing stockouts, and meeting customer demands. Furthermore, with AI-driven demand forecasting, retailers can make data-driven decisions and predict future demand based, helping them optimize inventory levels and supply chains. Such a fusion of AI-powered capabilities not only drives efficiency but ensures success in a competitive retail market.
Generative AI can add incredible value with its accurate sales forecasting and performance analysis. AI-powered systems leverage historical sales data and market trends to help retailers devise precise marketing strategies and targeted promotions. With AI-driven anticipation of customer demand, retailers can maximize revenue opportunities and even minimize stockouts, ensuring seamless product availability. Moreover, they can get invaluable insights into top-performing products, customer behavior, and seasonal trends through sales performance analysis powered by generative AI. Overall, the data-driven intelligence of AI systems lets retailers refine their sales strategies, driving increased sales and higher customer satisfaction.
Generative AI can radically transform all aspects of marketing and advertising in a retail business, especially when it comes to optimizing social media campaigns and sentiment analysis. With a meticulous analysis of user engagement, preferences, and behavior, it can create tailored campaigns for maximum impact which can help retailers expand brand visibility and drive meaningful customer interactions. Retailers can even gauge customer emotions and feedback through AI-driven sentiment analysis, thereby providing prompt responses and identifying brand advocates. Additionally, generative AI can create effective and relevant content, along with providing data-driven insights to inform market expansion and location planning. This way, generative AI can help retailers stay competitive in the ever-evolving digital marketing landscape, tap into new markets, and foster growth.
Retailers can optimize their accounting and finance processes with the help of generative AI, particularly through robust fraud detection, automated financial analysis, and reporting. AI algorithms can detect and prevent fraud in real-time by analyzing transactional data and customer behavior. This safeguards the retailers as well as the customers. Furthermore, AI algorithms can drive comprehensive insights into financial performance, cash flow, and profitability by streamlining financial analysis and reporting.
Retailers can utilize generative AI solutions to automate key purchasing and procurement processes like purchase requisitions, supplier selection, and order processing. This ensures efficient and cost-effective procurement. Moreover, AI systems can leverage past pricing data to reveal trends, fluctuations, and seasonal patterns. By providing data-driven insights, generative AI can help retailers make informed purchasing decisions, negotiate better contracts, and achieve optimal cost control.

3 . Preparing Your Retail Business for the Generative AI Revolution
As the retail industry evolves, Generative AI holds the key to transforming how businesses operate and create value. It is crucial for retailers to seize the opportunity ahead and start preparing now. If you're a retail business owner or a stakeholder, check out these essential steps to get ready for this new wave of technology.
It is crucial to develop a clear AI strategy that aligns with your overall business goals. It involves outlining how Generative AI can boost customer experience, optimize supply chain and inventory management, and fuel product innovation. You can start by exploring new use cases for automation and data-driven decision-making that would help get a competitive edge.
Invest in Data Infrastructure
Data is at the base of effective Generative AI operations, as it relies on vast amounts of data to generate credible outputs. So it is vital to invest in a robust data infrastructure that can store and manage all types of data – structured, semi-structured, and unstructured. This infrastructure helps you leverage the full potential of AI technology.
The more relevant and specific the data, the more favorable outcomes Generative AI can generate. So it helps you as a retailer to capture and annotate data that aligns with your specific business needs. Gathering this data now will ensure that you have the right resources when Generative AI models become more mature.
Now that generative AI is almost ready for commercial use, it is beneficial to pilot these tools in your retail operations to understand their potential and gain valuable insights. Piloting early will put you a step ahead of the competition.
Conclusion
Generative AI has brought forward a myriad of opportunities for the retail industry, helping retailers revolutionize customer experiences and optimize various business functions. A responsible adoption of Generative AI technology in the retail sector can help businesses stay ahead of the curve and drive growth in an increasingly dynamic market.
However, like any new technology, there are potential challenges and risks associated with adopting Generative AI in retail. That's why it's important to collaborate with a trusted and innovative Generative AI Development Company like WebClues Infotech. Our team of experts can help you navigate these challenges and ensure that your adoption of Generative AI is efficient, sustainable, and inspiring.
If you're a retailer looking to create a customer-centric retail landscape while also enhancing your business processes and overall profitability, don't hesitate to connect with us. At WebClues, we are one of the pioneers in delivering bespoke Generative AI solutions for retail and other industries. Let's discuss how we can help you integrate generative AI solutions with your retail business.