How to Build an
eCommerce App Like
Amazon / eBay?
Our Achievements So Far In This Digital Industry
About
Amazon is a reliable and efficient eCommerce platform that makes buying and selling of products an easier task. With the help of the online marketplace, customers can compare and buy products or utilize services seamlessly from anywhere around the world. Further, it helps your business to eliminate the barriers which are associated with having a physical business location, and as a consequence helps you to concentrate your efforts on creating a remarkable service that addresses the needs of your customers.
Opportunities In Building An eCommerce Portal
Amid the digital revolution, it is hard for buyers and sellers to locate each other in the physical world. As most users prefer to shop online, every business looks forward to having an online store where they can sell their range of products and services hassle-free. There are comprehensive opportunities for sellers in the online marketplace which includes a wider reach to audiences, gain new customers with search engine visibility, overcome geographical limitations, bring convenience to users, and many more.
eCommerce is the preferred channel for increasing sales and revenue for any business, as it offers a complete range of benefits that any industry vertical can relish meeting their revenue goal.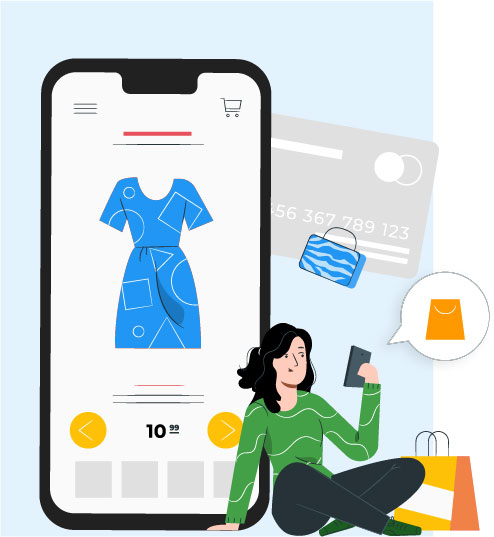 Zoomshop is an all-inclusive, e-commerce white-label solution that allows businesses to easily set up and manage their online stores, helping them leverage the ongoing digital boom. White-label solutions like Zoomshop offer several advantages over custom-made applications.
White Label Solutions (Zoomshop)
Being ready-to-market solutions, they are reasonably cost-effective.
Provide a quicker route to market. Ready to launch within four to eight weeks.
The Chances of under-delivery are significantly lower as they are tried and tested.
Check Out Demo Video
Custom Software Development
Require a larger investment as each element is developed from scratch.
Depending on functionalities and features, the development phase can last up to several months.
Often delivers less value than predicted and hence risk factor is relatively higher.
Custom Development Timeline
Amplify Your eCommerce Brand with "ZoomShop" App
ZoomShop is a premier ready-made eCommerce solution that elevates your brand and lets you experience the future of online business. The app offers end-customers an intuitive interface designed for swift navigation on Android as well as iOS. It also provides them with rapid loading, low data consumption, and seamless responsiveness. Furthermore, it streamlines your business journey with efficient order management, dynamic categories, and customizable email templates via the admin interface. Check out the video below to learn more about the stand-out features and functionalities of the platform.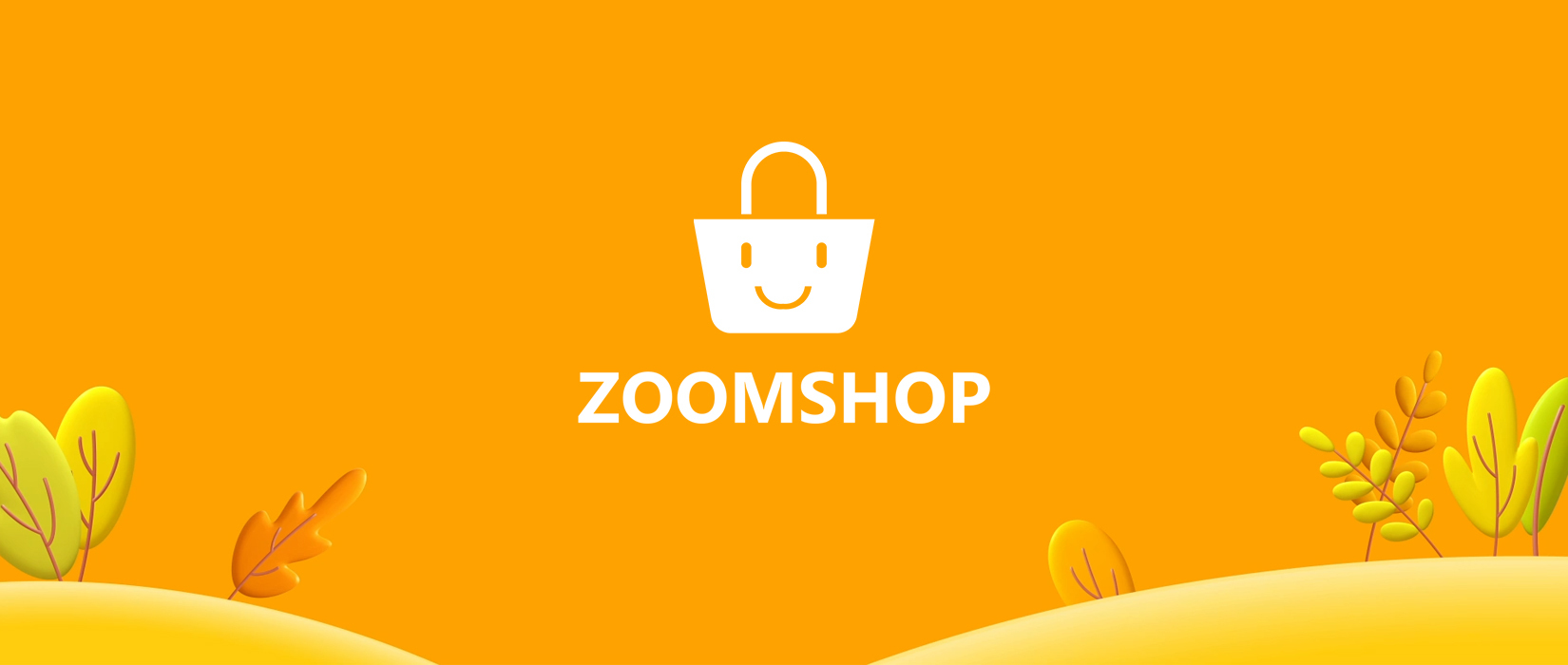 Millennials Influence eCommerce Market
eCommerce is growing at an unprecedented rate all over the globe. And, you cannot miss the millennial online shopping habits that have continued to have a major impact on the global economy. Today, digital users prefer to purchase from online portals for a better shopping experience because it is more convenient and easy to shop from mobile devices. Retailers must capitalize on this and adopt the eCommerce portal to increase their revenue goals.
Get A Quote

$47,112
$47,112 is the average yearly expenditure of millennials
$1.4 trillion
Approx $1.4 trillion spent by millennial shoppers every year
67%
67% of millennials prefer to shop online rather than in-store
Creating A Successful eCommerce Portal
While developing an eCommerce portal, your prime focus should remain on creating a smooth and easy flow from the moment when the user chooses the product till finalizes the purchase. The key driver of your successful eCommerce portal is the incredible user experience, and to achieve it, your portal needs to be quick, intuitive, and convenient enough for users.
Here, are six important points to keep in mind when creating an eCommerce website:
#2

Personalized Experience
#3

Well Designed Product Description
#5

Incorporate Social Elements
Features Of eCommerce Portal
If you aspire that your eCommerce website should increase your sales, build customer loyalty, and give your business a competitive advantage then you need to include a set of features that can further facilitate your buyer's journey and deliver a great user experience. Let's take a look at some of the must-have features for your eCommerce portal.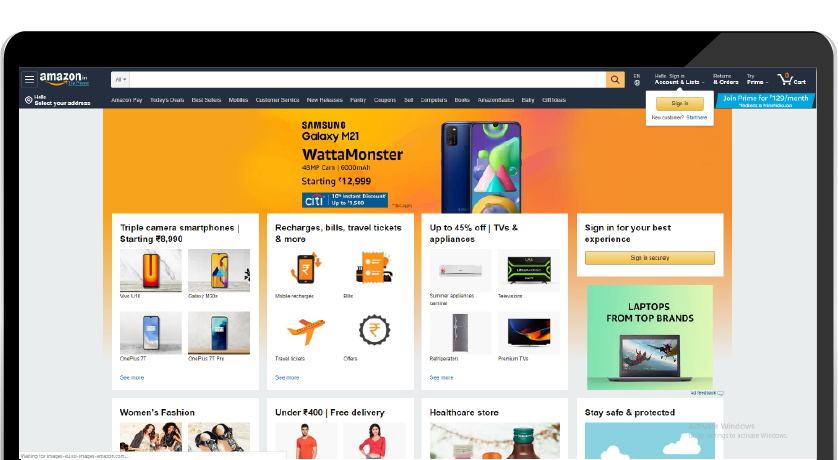 Dashboard

The dashboard feature will make it easy for sellers to see which products are performing the best or worst, product ratings & reviews, etc. In short, it will provide a detailed overview of valuable metrics that give seller insight into the performance of their product and the behavior of their customers.

Contact Us

This feature builds a seamless communication channel between seller and buyer. Here, the buyer can contact the seller at any point in time regarding queries of the product or for any other form of support.

Blog Integration

The blog feature is new, but an innovative aspect to engage your users with your portal. Here, sellers can include different types of blogs related to offered services, product launch, or any other genre that can help consumers to stay informative and loyal to your product and its offerings.
#1 Features For Sellers
Registration & Login

To keep the quality standard intact within every product, the registration process for sellers must involve certain criteria where they have to verify their business and offered services. This will help customers to get the right services from the certified and verified sellers.

Product Management

Managing Products is easy using this feature. In this panel, sellers can add or remove any product according to their availability.

Product Inventory Management

The product inventory management feature will help sellers to keep a detailed record of each product as it enters or leaves a warehouse. Further, it will allow sellers to stay organized, avoid costly errors, and track all inventory activities seamlessly.

Products Ratings and Reviews

Reviews allow users to express their feelings about the product and shopping experience. Using this feature, the seller can make better & faster decisions about product roadmap, based on the feedback of users.

Reports

Sellers can view daily, monthly, or annual analytics reports related to sales, highest purchased product, least sold product, most liked and disliked the product, etc.

Order Management

This feature will enable sellers to get complete order details of the user. From receiving the order till the time it is delivered, the seller will get all the details under this feature.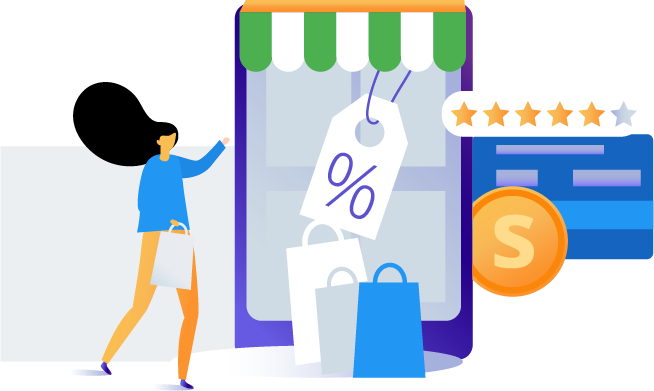 Category

The category feature makes the user experience smooth, as it helps customers to pick the products from the defined categories. And they don't have to get confused due to various products, but can simply click on their preferred category and make the purchase.

Product Listing & Detail

This feature must be a perfect blend of brief product descriptions and images, so your consumers can take a closer look at the products. And, this will help them further to make the purchase smartly and will also reduce the risk of a product return.

Checkout

Whether your customers are shopping from their desktop or their phone you need to make the purchasing process simple for them. The navigation and steps involved in this feature must be as less and simple as possible to make the purchase take place smoothly.

My Account

This feature allows your customers to get an interactive experience and foster a relationship with your portal. Users can check their past orders, settings, cart, language, notification, and other features.
Registration

The registration is the basic feature but it must be integrated with the convenience. You must let your users register on your eCommerce portal through their preferred option that can be a mail, phone number, or even the social media login.

Search

With this feature, users can easily find the specific product they are looking for. Integrating the autocomplete feature is also a great option to save the time of users. Also, users don't have to scroll through every category, they can simply use some keywords like cleaning products in the search bar and the listed products will be displayed.

Cart

It is a must-have feature in an eCommerce portal and builds a positive user experience. Further, it lets the customers pick the purchasing flexibility and save or buy now as per their convenience. Your customers can add a product to the cart and if they don't want to proceed to checkout immediately, they can return to it later.

Guest Checkout

For first-time users, who are looking forward to easy and quick ways to purchase, a guest checkout feature is most useful. It helps them to purchase without saving their contact information and helps them to build trust on the portal.

Newsletter Subscription

With the newsletter subscription, your users get the daily, weekly updates about any new advancement taking place on your portal. And, this further helps them to stay engaged and updated about services they are likely to receive from your platform.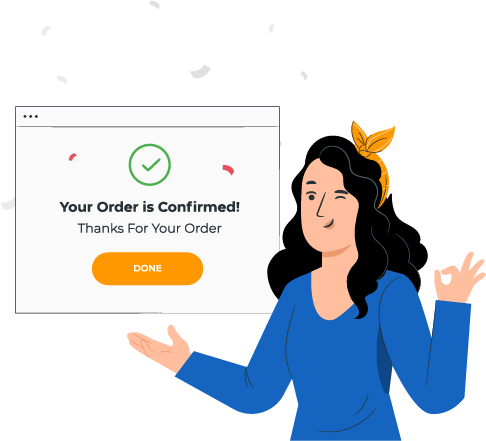 Challenges Of Building A Marketplace Like Amazon / eBay
You cannot excel by solely focusing on customer service, but to get a significant advantage your eCommerce business needs to overcome some challenges. There are multiple challenges faced by the eCommerce marketplace, but with a few simple solutions, you can resolve those issues and focus on running your business instead.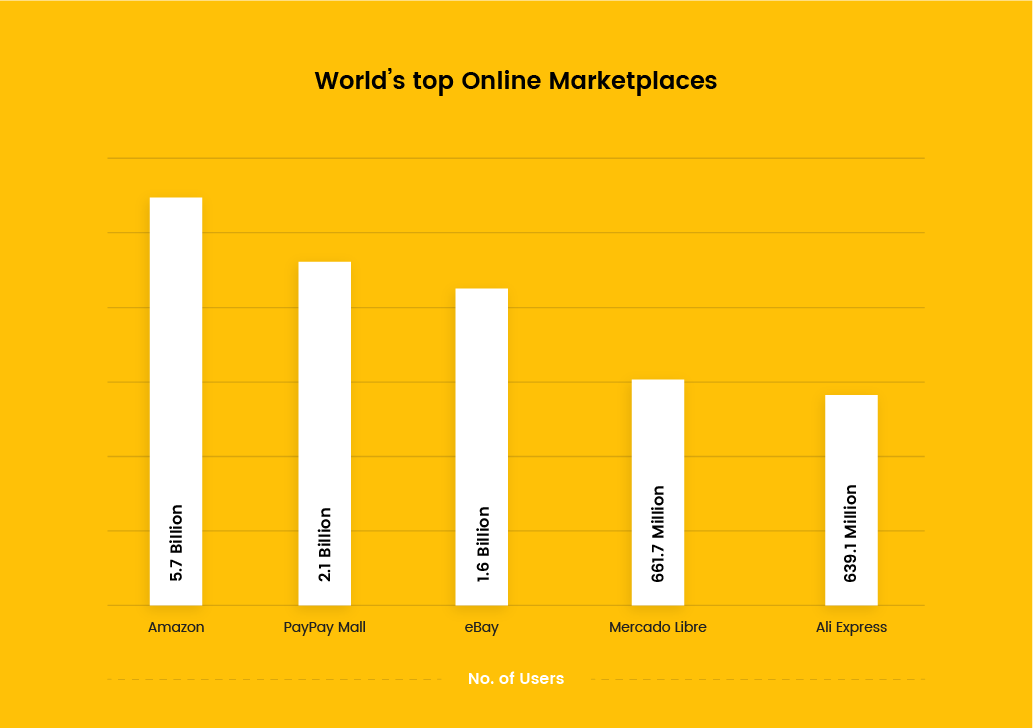 01.
Fierce Competition In The Horizontal Marketplaces
Entering and sustaining in the eCommerce business is a daunting task. To beat the competition, you have to establish and maintain the best supply chain, wholesaler relationships, and provide excellent customer services. And, this enables you to drive more sales through return customers.
02.
Getting The Right Technology To Handle Requests
The right technology helps customers to easily track their orders, find the best deals, and be informed about the latest updates and trends. The integration of efficient technological advancements helps consumers to connect with brands and empowers them to shop more effortlessly.
03.
Warehousing, Logistics, Shipping, And Product Returns
An efficient return process involves various factors and steps where any product, if not liked by the customer or damaged, can be returned without any issues involved. Here, a product reaches to the warehouse, get checked for quality, and shipped with the new or refurbished product to customers.
04.
Customer Support
The customer support feature in the eCommerce portal ensures to provide incredible support to online shoppers. If your visitors have questions or need help in making a purchase, this feature helps them navigate your site and achieve their goals.
How To Monetize An Amazon/eBay-like Marketplace?
There are many ways you can grow your eCommerce marketplace. With the right products, sophisticated marketing tactics, and seller support, your monetization model can thrive and help you get an edge over the fierce competition.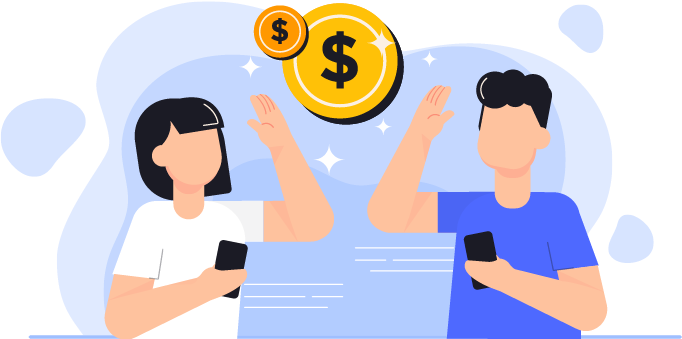 #1

Subscriptions Model

The eCommerce portal can charge sellers one-time subscription fees for accessing their platform and utilizing ongoing services. Using this model, the portal can get recurring revenue from sellers based on the product count or time-period.

#2

Commission Model

Using this model, the eCommerce portal can charge a different kind of commission structure on every sale made. Here, the portal gets a share of every transaction/sell made through the sellers account.

#3

Advertisement Model

In this model, the eCommerce portal asks sellers to purchase the space on the platform to host their products. By using this model, seller can advertise their products using promotional activities such as best deals, banners, festive offers, etc.; optimizing their product search visibility. It helps sellers to get more conversion as their products appear on the portal's home page.

#4

Fulfillment And Shipping Fees

It will include packaging & delivery of products purchased online from the eCommerce store. The portal can either hire third-party courier service providers that pack and ship orders or can deal with the shipping process by its own with the appropriate commission.

#5

Co-branded Credit Cards

The co-branded credit card is sponsored by two parties; one is a retailer, and the other is a bank or card network such as Visa, MasterCard, or American Express. With co-branded credit cards, cardholders receive the merchandise discounts or rewards points when they buy from the sponsoring merchant. This triggers the purchase from the eCommerce portal and even attracts customers who aren't interested in regular credit cards.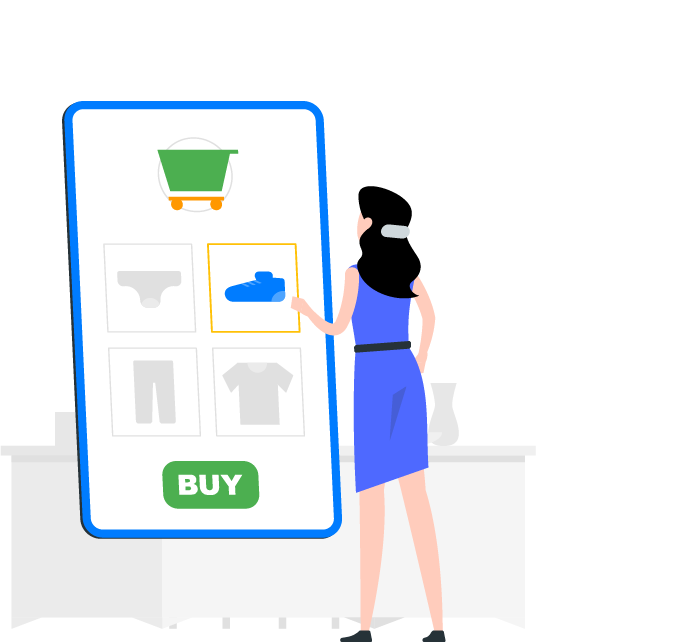 Why Bringing Your Business On eCommerce Is A Smart Choice?
Online shopping is expected to grow at a great pace with 56% of GenX and 67% of GenY using eCommerce to make purchases. Hence, it is important to consider an eCommerce-based strategy for your business operations and streamline the ROI model.
TALK TO OUR EXPERT
We are a CMMI level 5 certified company
Our innovative process, technological improvements, and relentless commitment to delivering the finest quality of services to our clients have made us earn this authoritative certification.
How Long Does It Take To Build An eCommerce Platform Like Amazon/eBay?
The scope of a website consists of various features, functionalities, platform(s), and technology stack. All these factors influence the timeline of development. To help you get an overview of the level of effort in building an online marketplace, we've got you the detailed information below.
Deliverables
Module
Sub Task
Estimated
Hours
Admin - Backend
Menu Management
Add/Edit/Delete/List Menu
2
Banner Management
Add/Edit/Delete/List Website Banners on home page
4
Category/Sub-category Management
Add/Edit/Delete/List Product Categories/Sub-category
8
Product Attribute Management
Add/Edit/Delete/List Product Attributes
6
Product Options Management
Add/Edit/Delete/List Product options like colour, size.
6
Brand Management
Add/Edit/Delete/List Product Brands
4
Buyer Management
Add/Edit/Delete/List site Buyers
16
Seller Management
Add/Edit/Delete/List/Block site Sellers
16
 
View Seller Products
 
Promocode Management
Add/Edit/Delete/List Promocodes
8
Tax Management
Add/Edit/Delete/List Tax rates
6
Payment Gateway Management
Add/Edit/Delete/List Payment Gateway
24
Shipping Method Management
Add/Edit/Delete/List Shipping methods
28
Order Management
Add/Edit/Delete/List orders
32
 
Generate Invoice
 
 
Order Status Management
 
Order Cancel/Refund Management
 
12
Commission Management
Add/Edit/Delete/List Seller Commission
16
Newsletter Management
Newsletter Management with integration of Mail-chimp
14
Blog Management
Add/Edit/Delete/List Blog
18
CMS Management
Add/Edit/Delete/List CMS pages
10
Email Notification Management
Manage Email notification of all the events
8
Social Media Management
Add/Edit/Delete/List social media follow us links
4
Reports
 
24
Dashboard
Dashboard with statistics
18
Site Configuration Management
Set up all required site configurations
8
Google Analytics Integration
 
8
SEO Friendly URL
 
12
 
Seller
Registration
Seller can register with a Form (Admin approval is required post registration)
12
Login
Seller can login with email & password
4
 
My Profile
 
Forgot Password
Seller can send forgot password request
2
Product Management
Add/Edit/Delete/List site Products
36
Product Inventory Management
 
8
Order Management
Add/Edit/Delete/List orders
32
 
Generate Invoice
 
 
Order Status Management
 
 
Order Cancel/Refund Management
 
My Account
My Products
60
 
View Products Review/Rating
 
 
My Orders
 
 
My Earnings - Seller will be able to see the list of payment received
 
 
Change Password
 
Subscribe to Newsletter
 
4
Blog Integration
Show blogs specific to category
12
CMS Pages
List content of all CMS pages by page
8
Reports
 
20
Dashboard
Dashboard with statistics
16
 
Buyer
Registration
Buyer can register with a Form or social media (Facebook & Google)
6
Login
Buyer can login with a Form or social media login (Facebook & Google)
4
 
My Profile
 
Forgot Password
Buyer can send forgot password request
2
Home Page Integration
 
16
Category Page Integration
List All products from the category
24
 
Filter by Sub Category, Brand, Prices, Colour, Size and other attributes
 
 
Grid / List view
 
 
Add to wishlist
 
 
Product comparison
 
 
Sorting
 
Search Implementation
Search section in header
16
Product Detail Page
List of product with images
32
 
Choose product quantity and option
 
 
Product tabs of Seller, description, Review/Rating of Product
 
 
Social media sharing of product
 
 
Recently viewed products bellow main product with slider
 
 
Add to Cart
 
 
Add to wishlist
 
 
Product comparison
 
Cart Page
Add product to cart.
12
Checkout
Add Billing and Shipping Address
34
 
Select Payment method
 
 
Select Shipping method
 
 
Review order and make payment.
 
Guest Checkout
Option to checkout as guest
12
My Account
Change Password
20
 
My Orders
 
 
Cancel/Return Order
 
Subscribe to Newsletter
 
4
Blog Integration
Show blogs specific to category
12
CMS Pages
List content of all CMS pages by page
8
Contact Us Integration
Form to contact Admin
6
Sitemap Integration
 
2
 
General
Business Analyst
32
Project Management
60
Website Graphics Design
60
Hyper Text Markup Language
110
Quality Assurance
120
System Architecture and Database Design
24
Server Setup and Configuration
16
Deployment
8
 
 
Total Hours
1180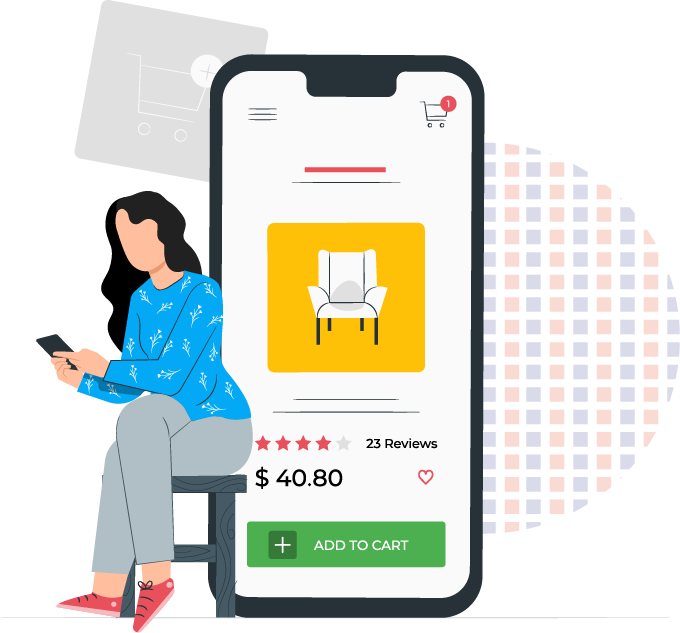 Multiple Ways To Sell In eCommerce
The eCommerce world provides various opportunities to sellers and buyers to sell and buy their products and services through the internet. For a startup to brand, eCommerce can be extremely rewarding and can also provide a path to success without the risks involved in selling products to the vast number of the user base. Here, we have accumulated some of the ways that are used in eCommerce to reach out to your targeted consumers.
REACH OUT TO US
#01
Mobile Commerce
Mobile commerce is also known as mCommerce and with the surge in mobile users; it is becoming a mainstream marketplace. It allows sellers and buyers to buy and sell products online through mobile devices. In this portal, consumers can shop from brands and retailers through several channels on their phones, which can be social media, mobile commerce apps, mobile websites, and more.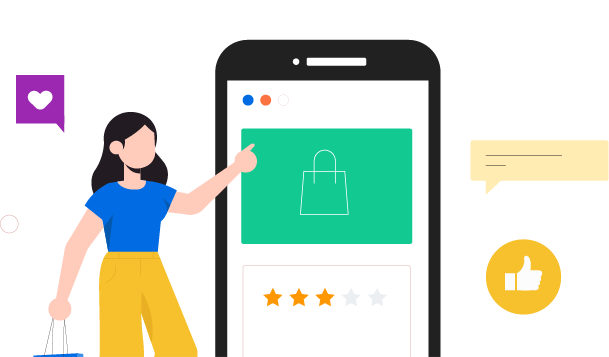 #02
Social Commerce
Social commerce sells products directly through social media networks. For your business, social commerce holds ample of benefits. You can drive traffic to your services, through different social media channels, like- Facebook, Instagram, Pinterest, or even Snapchat. It is an efficient way to reach your targeted audience through different and potential means.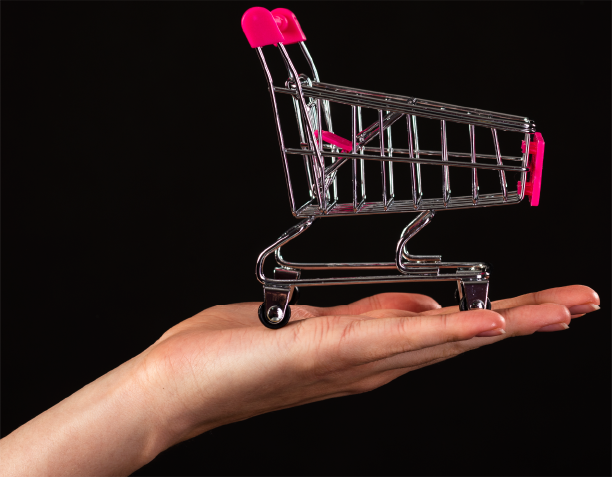 #03
eCommerce Marketplace
The concept of the eCommerce marketplace is trending amongst sellers and buyers. As millions of buyers are crowding on online multi-seller malls, it is a great revenue generation opportunity for sellers. As a seller, you can list products on the eCommerce portal and provide competitive prices to make profits effortlessly.
#04
eCommerce Auction Portal
The mechanism of an eCommerce auction works on the internet. Here, as a seller, you need to list an item for sale in an auction-style listing, further choose a starting price. Later, the interested buyers place bids to make the purchase. On the completion of the auction, you as a seller can sell to the highest bidder, and earn the profit.
#05
Wholesale eCommerce Portal
The wholesale eCommerce is the process of selling the products in bulk to another retailer, usually at a discounted price. Further, these retailers sell these products to their customers. This entire process takes place in the online marketplace or eCommerce portal. This is one of the best ways to attract customers, as exclusive discounts and deals are offered to them.
Technology Stack For Your eCommerce Platform
An eCommerce portal requires a full-fledged technology stack to function smoothly. In terms of back-end & front-end technologies, several frameworks and languages must be considered to make it work and synchronize in both web and mobile platforms. Different set of technologies and frameworks are needed to make the portal work efficiently as per the requirement. Here you will find the list of main tools that should be used for the development of the eCommerce portal.
For Android
Development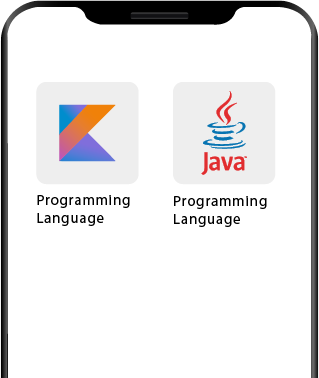 For Backend
Development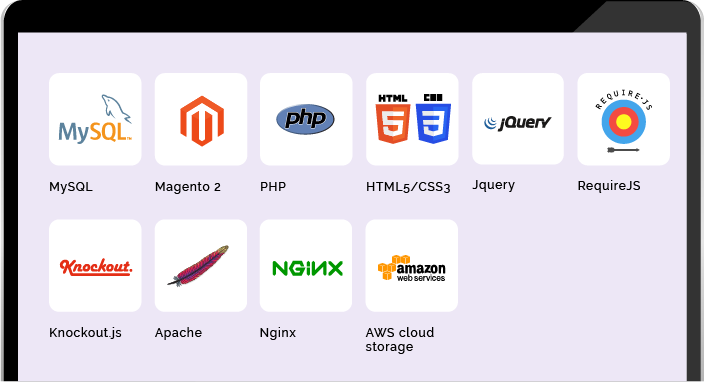 For iOS
Development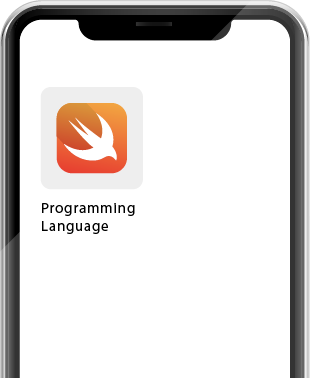 Future Of eCommerce
Eventually, eCommerce had come a long way since the last two and a half decades of its existence. And, it is predicted to grow 4.88 trillion dollars' industry by 2021. It is closely observed and estimated that around 3 billion buyers from emerging & potential markets will get access to the internet by 2022. Allowing the new and existing businesses to branch out and reach new audiences and get opportunities from the new eCommerce platforms. The eCommerce portals will allow these brands to scale their presence and make a strong foothold in the emerging markets. To sell their products, many small to large industries will pick up the eCommerce portals, to reach their targeted audience base.

eCommerce Apps/Websites Offered By WebClues Infotech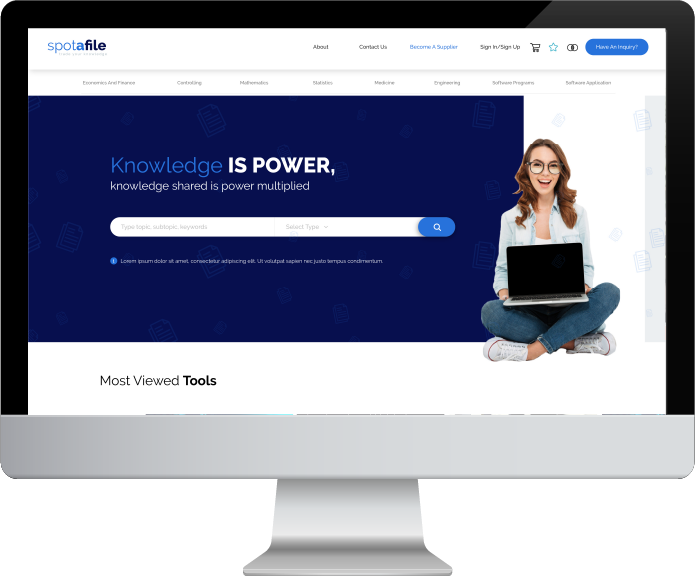 Spotafile
Spotafile is a global vehicle and marketplace for trading files that are normally not readily accessible on the internet. As a Supplier on Spotafile you can easily commercialise all your previous work in academia or in business. You can do this by offering your files (e g. an advanced engineering or financial model) at a USD price you set.
Industries That Are Driving On-Demand Economy
The gig-economy has opened a door of opportunities not just for eCommerce, but there are different industries as well which are taking the benefits out of it.
HEALTHCARE
The introduction of on-demand services has revolutionized the healthcare sector. Now, it is easier to establish contact between a qualified doctor and patient, order medicines, book diagnostics tests, and collect reports on the go.
FOOD
The food delivery market has benefitted hugely from the on-demand services, as it allows users to order food from their favorite restaurants and get delivered at their door-step.
ENTERTAINMENT
When it comes to booking tickets of movies or events, on-demand apps come handy. They help users get required services at just one touch while sitting at home. The entertainment industry has become advanced because of on-demand services.
EDUCATION
Technologies like smart boards, digital highlighters are paving their way into the sector of education and are changing its paradigm completely.
PROFESSIONAL SERVICES
The professional services have gained the maximum benefits from the on-demand services, as it allows users to hire professionals for all their household works or any work in general.
TRANSPORTATION
The transportation sector owns a lot to the on-demand economy, as it allows users to book a cab or any other form of transportation by making a few taps on their smartphones.
Listen From Our Clients
We've helped many clients globally to solve complex business problems with our developed mobile app & web solutions. Our collaboration with clients results in a long-term partnership. Check what they have to say about the services they have received from us.
USA
Blockchain solution
CEO
FAQ's
We are a leading mobile app & web development company with relevant industry experience. We work closely with clients from ideation to mobile app mockups to successful launch. We specialize in professional custom eCommerce website development solutions for businesses large and small. Since our inception, we have developed more than 50 eCommerce web portal.
Anybody can make an eCommerce store for their business provided if they do not exactly copy the assets and code directly from the original website. There will be no issues regarding copyrights as we will develop a website from scratch with improved design, unique features, and functionality by analyzing the existing big eCommerce giants.
Yes, we can provide you with full-time dedicated developers. Our developers will work 40 hours/week on tasks shared by you. In order to hire them, just post your project requirements, get the list of shortlisted developers with detailed work experience including per hour cost, and select them as per your requirement.
Regional Contact Info
We can give you the Wings to Fly. Contact us now!
Ahmedabad
1007-1010, Signature-1,
S.G.Highway, Makarba,
Ahmedabad, GUJARAT 380051
Rajkot
1308 - The Spire, Near Parijat Party Plot-Sheetalpark, 150 Feet Ring Rd,
Manharpura 1, Madhapar, Rajkot, GUJARAT 360007
Delaware
8 The Green, Dover DE, 19901, USA
New Jersey
513 Baldwin Ave, Jersey City,
NJ 07306, USA
California
4701 Patrick Henry Dr. Building
26 Santa Clara, California 95054
Queensland
120 Highgate Street, Coopers Plains, Brisbane, Queensland 4108
Dubai
Dubai Silicon Oasis, DDP,
Building A1, Dubai, UAE
London
85 Great Portland Street, First
Floor, London, W1W 7LT
Burlington
5096 South Service Rd,
ON Burlington
L7l 4X4