Are you looking to build a food delivery app like
Zomato?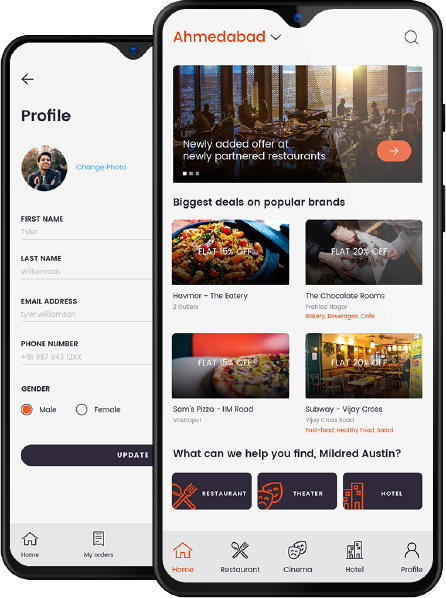 Popular Food Delivery Apps Built By WebClues Infotech. Your Idea Can Be Next!





Why Should You Choose WebClues Infotech For An On-demand Food Delivery App Like Zomato?
Hunger is never going to end and similar is the case with the business of food. This is the reason, why food delivery apps like Zomato, UberEats, etc. have gained much popularity recently. You can be the next in the list of top entrepreneurs in the Food delivery sector. All you need is a holistic app which can meet every aspect of your business.
The team of WebClues Infotech has the expertise and relevant experience in delivering such food apps for startups and companies. By choosing us you can be sure of the final quality of your app that can find its place in the heart of your customers. With the help of latest tools and technologies, we can assure you to deliver the best possible solutions for your business.
Impress Your Users With Enchanting Features And Comfortable Experience Like  Zomato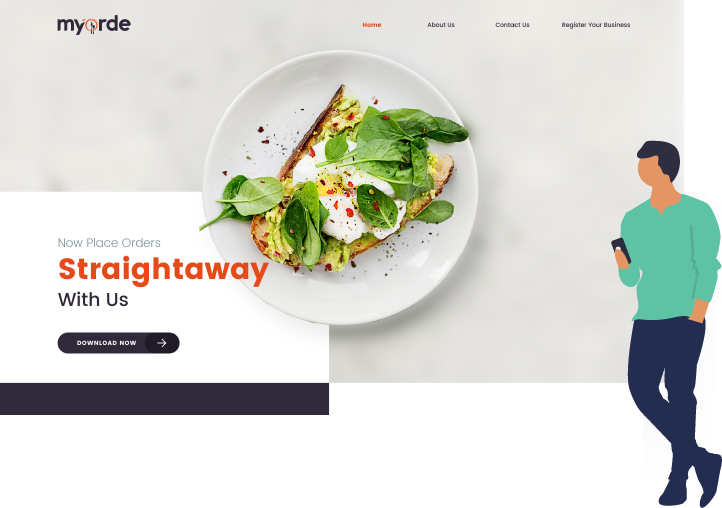 Why should you invest in a food delivery app like Zomato?
With the advent of the new digital era, gone are the days where visiting restaurants was the path abided by people to satisfy their hunger. The eatery business is expanding like never before, restaurants are coming up every day and customers are finding more convenient ways to satisfy their hunger. This has elevated the need for restaurant finder apps. It is high time that you leverage this need for the benefit of your business.
The restaurant finder apps are having a three-fold benefit- to the restaurant owner, delivery staff, and customers. If managed efficiently, these three together will server to multiply your business and bring it to the list of top food apps like Zomato and UberEats. An on-demand food delivery app can help you to expand in a wide range and fulfill diverse desires to attract your customers. Before you begin building one, some key points need to be focused including the time and cost of the app, for gaining valuable insights into the process of creation, management, and value of such an app.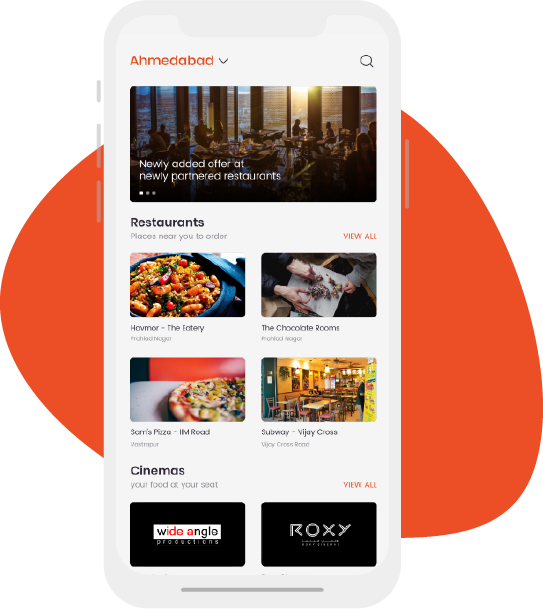 User Side
Your app should be user-oriented with smooth and rich experience. With the team of WebClues Infotech, you can embed rich features and functionalities in your app. From searching the nearby restaurants to real-time tracking of the food and delivery driver, the app will take every minute detail into focus. Users can easily place their order and customize and save their searches. Customers are provided with multiple payment gateway options as per their convenience. Reviews and feedback can be given quickly and easily. Also, with few clicks, your customers get an idea of the tables available to book.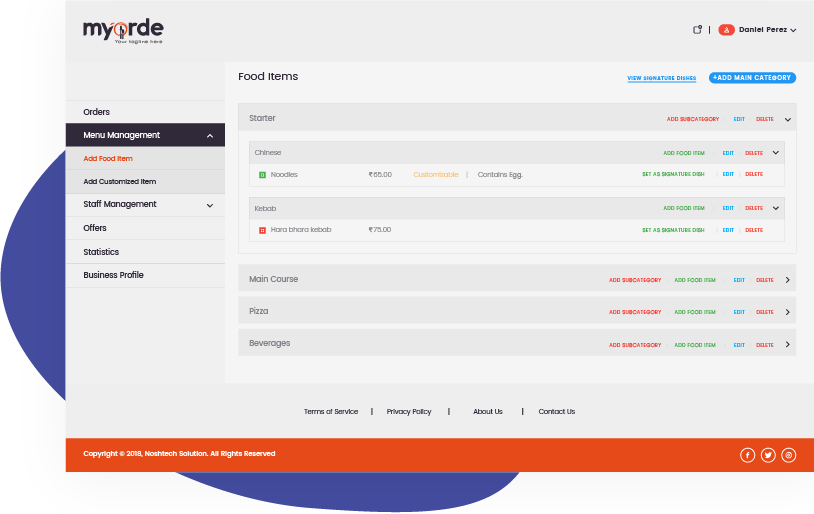 Business Owner
The app allows the business's owners to register and create profile including information like restaurant address, list of menu with price, offers, discounts, and contact details. The owner has all the status (dispatched, schedule, pickups etc.) of the orders to view with the simple touch on the screen and manage orders systematically. He can create and update the menu along with adding all details like items, price, special dishes, etc. The app gives the owner a chance to attract more customers by offering special discounts and offers. Through push notifications the management side can be updated regarding the status of orders, the payment received, and feedback.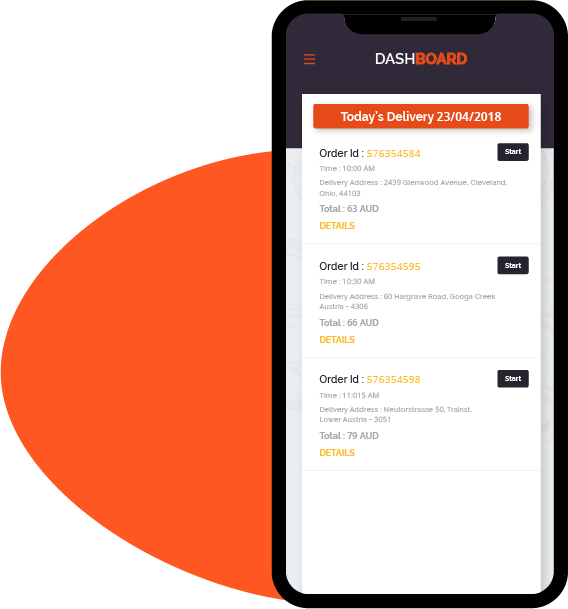 Delivery Driver
Delivery driver are the backbone of your business. If they get a comfortable experience with the app they will be able to provide on-time delivery to keep your clients satisfied. The app allows the driver to create profile and update it as per the requirement. The delivery driver can handle multiple orders at the same time through alerts sound and notification. With the integrated Google Map your driver can easily find the shortest route to reach your clients and delight them.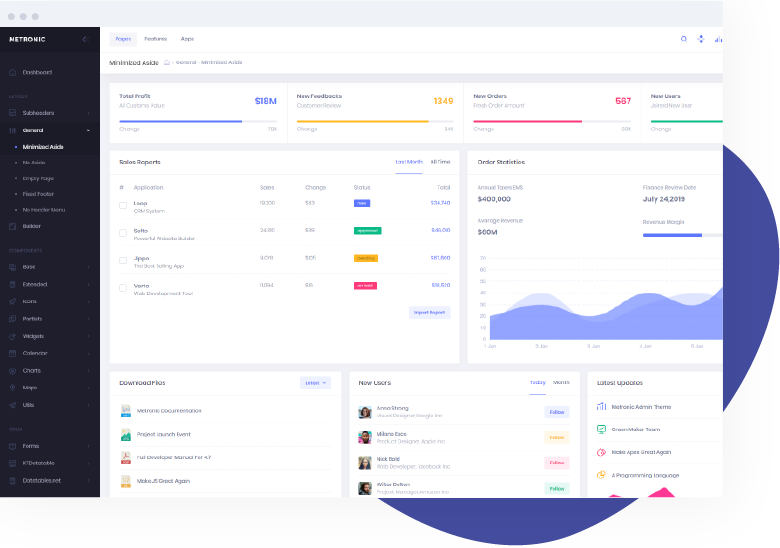 Effective Administration
Being the admin you can effectively manage the restaurants under you. You can add/remove the restaurants and their active status on the app. The app provides you with an opportunity for effective category management- listing items, pricing details offers etc. As an admin, you are the in-charge for monitoring each process from orders and reviews to drivers and their performance. Get brilliant analyzing and reporting features to find the possible opportunities to expand your reach and accelerate the pace of your growth. Get real-time updates from restaurants and drivers through notifications. Allow easy setting and management of commission rate from the panel with each partner.
Some Statistics To Prove Demand For An App Like Zomato
$266.05 bn
Global Online On-Demand Food Delivery Services Market
On-Demand Food Delivery Services Market is Projected to Experience a Staggering Growth of $266.05bn during 2023-2027, with a CAGR of 24.64% During the Forecast Period.
53.9 Million Users
Rise in Food Delivery App Users Predicted
It is expected that the user base of smartphone food delivery apps will grow, reaching an estimated 53.9 million users by 2023.
$231.30 bn
Expanding Revenue of the Food Delivery Market Revenue
Revenue Growth In Food Delivery is expected to show an annual growth rate (CAGR 2023-2027) of 13.56%, resulting in a projected market volume of US$384.70B by 2027.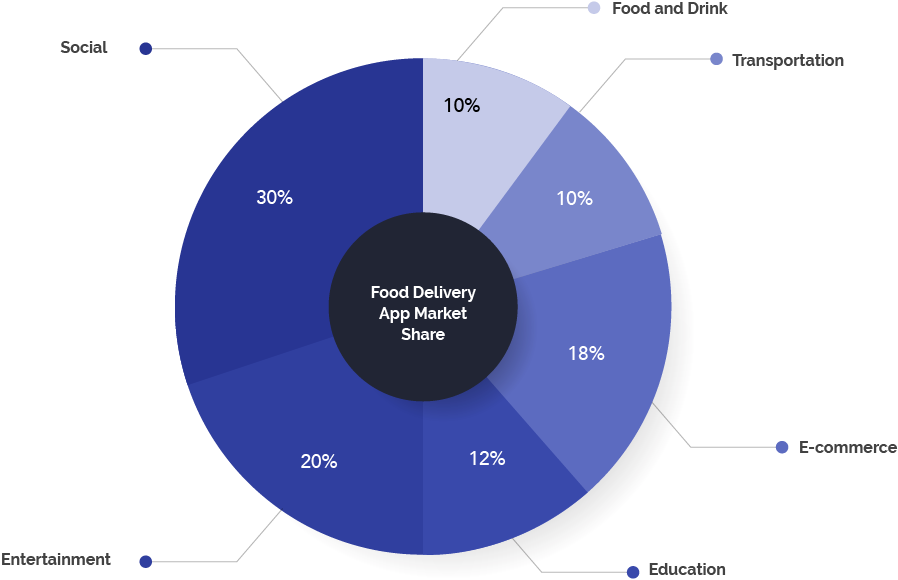 Food delivery app market share currently occupies approximately 10% of the total market share. Recently, these apps have gained an upsurge in the demand and downloading and soon this figure will eventually increase. Apps like Zomato and UberEats come with innovative offers, discounts, and other means to appease their customers. Who doesn't wants to have their favorite dinner at a discounted price at their preferred location? Hence, the upcoming years will witness a sharp jump in the market share of the food delivery apps. It is the right time for you to embark on such a journey.
Where Do The Existing Players Stand?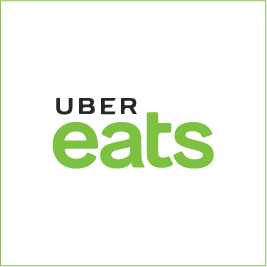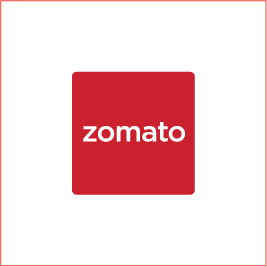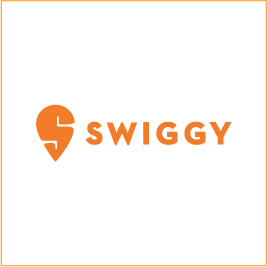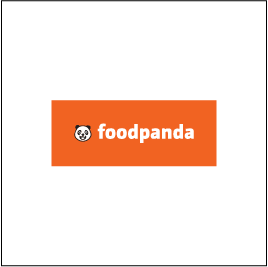 You would surely be wondering on how much annual revenue is generated by the existing on-demand food apps. These figures are convincing enough to make you determined about building your own food-delivery app. With the proper features and functionalities, you can be the next big payer in the eatery business. So, what are you waiting for?
Challenges In Entering The Mobilized Food-delivery Market
In order to beat or even come at par with players like Zomato, UberEats, Swiggy, etc. who have already make an indelible impression for themselves in the market, there are many challenges that have to be overcome. With a shrewd strategy and right team, this is not so difficult. Let's have a look at some of these challenges that should not loose our focus.
Wavering Customer Loyalty
Customers are an asset to business but in the mobilized food-delivery market, customer loyalty is continuously deteriorating. You cannot be sure whether a customer will stick to a restaurant's service if he finds it good in the first place. Later on, if another comes with better offers or unique ways to lure the customer he may eventually shift. For customers the more they get the merrier. Thus, fidelity in a customer is a common and challenging issue.
Fluctuating Pricing Model
The neck-to-neck competition in the food delivery market has made it really difficult to follow a specific pricing model continuously. The customer will always prefer an option that can serve him the best in the cheapest way. Now small business also can't keep reducing their prices just to please the customer as this can lead them to run out of their business. Coping up with the fluctuating pricing models is another challenge to be faced.
Inconsistent Food Quality
Will you prefer a hot and tasty meal right from the kitchen or rather a cold one delivered in a box? Obviously the first one, right! This is what happens with the delivered food. No matter how good may be the packing, your Pizza won't taste the same. The quality of delivery is similar for the customers as the quality of food. Thus there are chances that this may reduce your customer-base.
Inefficiency To Cope With Volumes
Too much of orders and demand is always not a boon. It may happen that a particular restaurant does not have enough operations and logistics to meet the growing demand. In that case, in the absence of an alternative operation line, there are chances that the customer might switch to someone else. Amidst such a fierce competition, sometimes a chance gone once may mean a chance gone forever.
Big players like Uber and Amazon have sensed the bright prospects in the mobilized food-delivery markets. Their entry which will also be accompanied by other reputed players like Dominos and Pizza Hut is a slight threat to the new and growing players. The reason is that these big names can easily meet the financial and resource requirements which can be troublesome for the smaller and independent ones.
Food Delivery Apps Built By WebClues Infotech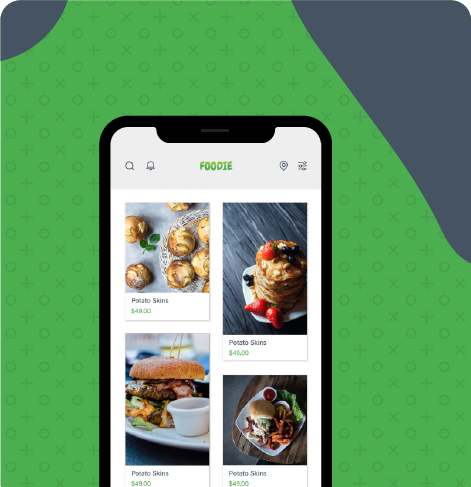 Foodie
Foodie is a mobile app for the best possible usage of extra food. Anyone can post an image of the dish along with description and price. Interested people can contact seller, visit them and buy the food.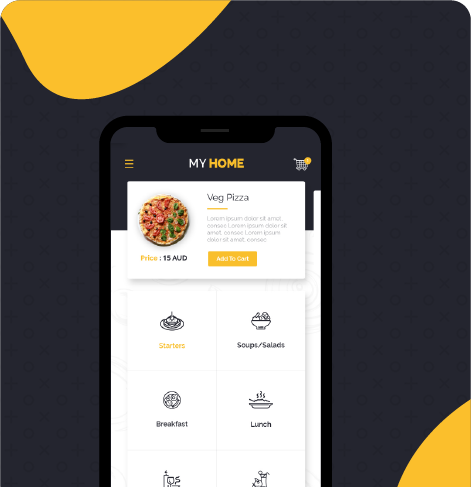 Edge Smart
Edge Smart is a food delivery app that connects users to a particular restaurant and allows them to review items on the menu, their pricing, table booking, and other offers in one place. It creates a direct line of communication between customers & restaurant owners.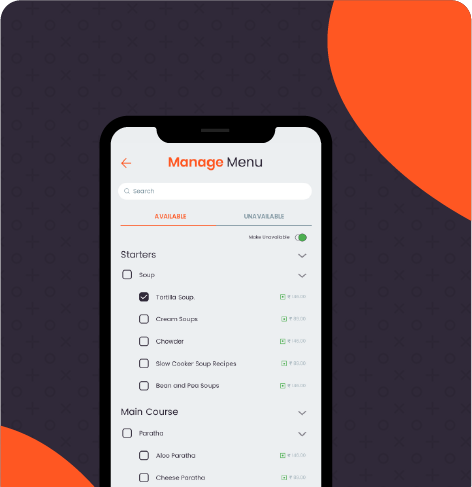 MyOrde
MyOrde has impressive features that allow customers to satisfy their hunger by booking their favorite dishes from their favorite restaurants. Users can check the status of the order, real-time tracking of the delivery staff, and easy rendering of reviews and feedback given by customers.
Technology Stack Behind Our Food Delivery App Development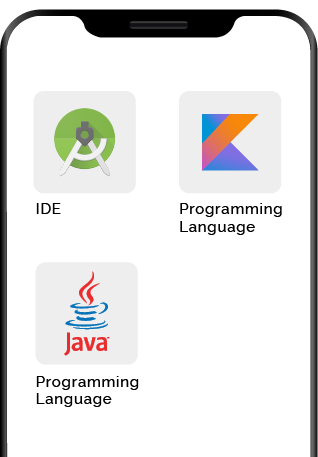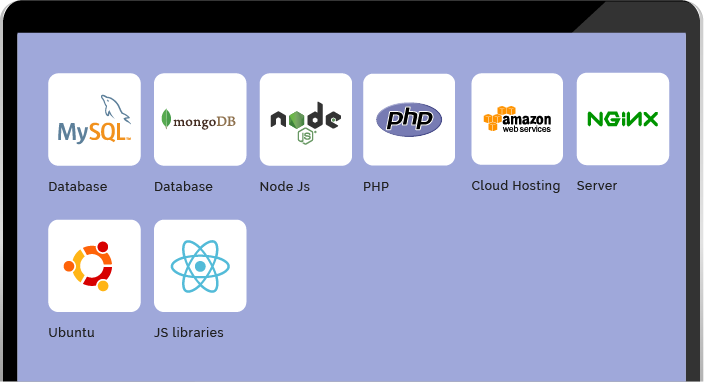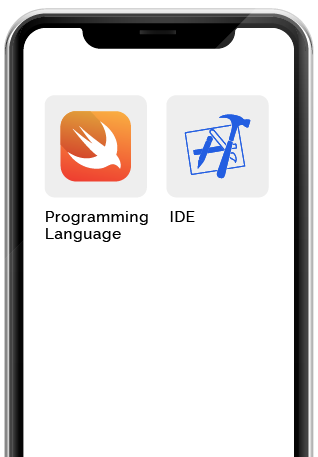 How much does it cost to build an app like

Zomato

?
The cost of developing an app depends majorly upon four components: App Platform, App Size, App Design, and App Development.
App Platform: App development cost for iOS varies from Android.
App Size: Size of the app is decided by the number of features in it. The complexity of these features decides the app cost.
App Design: UI/UX of the app and its design play a crucial role. Design cost depends upon the animation and graphics involved.
App Development: It includes the hiring cost of the development team and license purchase.
Also, the app cost can vary on choosing a mobile app development company or mobile app developers situated in different locations.
For example:
U.S. based developers: $50 to $250 per hour.
Eastern Europe based developers: $30 to $150 per hour.
India based developers: $15 to $50 per hour.
Right from hiring to providing support post app launched, everything is dependent on the cost. You have to manage everything in your budget.
WebClues Infotech helps you stick to your spending plan and provide you with an appropriate solution.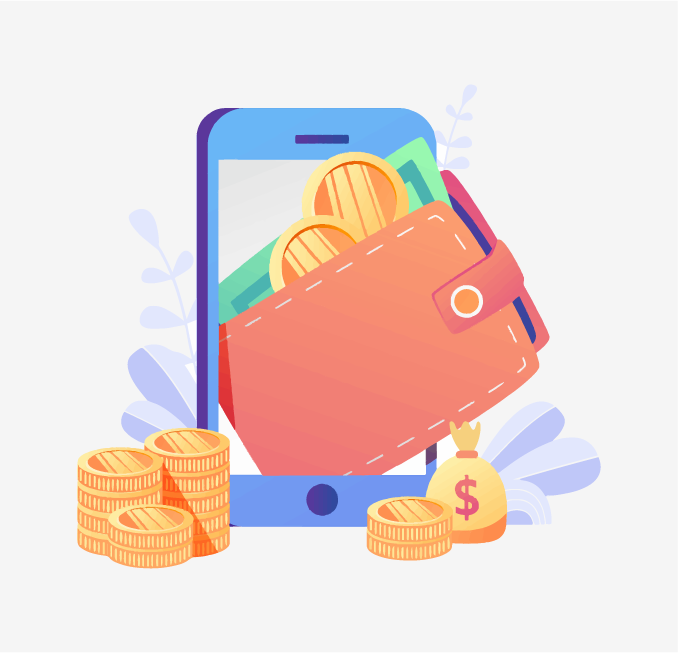 We are a CMMI level 5 certified company
Our innovative process, technological improvements, and relentless commitment to delivering the finest quality of services to our clients have made us earn this authoritative certification.
Timeline to Make an App like Zomato?
Creating an app like Zomato encapsulates a series of processes. Designing the app, incorporating features such as booking and ordering facility, payment gateway integration, location tracking etc., and app testing amongst others. The entire timeline depends much on the hiring company and differs according to the platforms, tools and technologies used. Still, typically on an iOS platform, it takes approximately 800-900 hours.
Deliverables
Feature
Total Estimated Hours

System Architecture and Database Design

Logo Design
Application Graphic Design
Application Invision Prototype
1 page website design
System Architecture and Database Design

Web - Admin

Category Management
Admin Management
Customer Management
Business Owner Management
Delivery boys Management
Payment Integration
Commission Management
Order Management
Promo Code Management
Contact Us Management
Email Templates Management
Site Configurations & Settings
CMS Management
Dashboard
Logout

12
16
16
20
12
20
12
32
12
8
12
6
8
20
12

Web - Restaurant Portal

Sign Up - Business Owner
Business Owner - After Approval
Select Category - Add Food Item - Short Description - Add price
Order Management
Contact Us
Statistics
Logout

Android / iOS App - User

Application Design Integration
Splash Screen
Registration
Login
My Profile
Forgot Password
Fetch Current Location
Home Screen Integration
Search/Filter option
Restaurant Detail Screen
Cart Page
Checkout
Notifications
Contact Us Integration
My Account
My Orders- Orders Listing & Order details with current order status
Track delivery boy
Logout

48
4
24
12
16
8
8
24
32
48
32
48
32
8
8
32
32
4

Android / iOS App - Delivery Boy

Splash Screen
Login
My Profile
Forgot Password
Current Orders
Pickup and Drop-off point for each order
Update order status
Notifications
My Account
Logout

Total Estimated Hours
942
How to Make Money in the Food-Delivery Business?
Delivery charges
If a restaurant does not have its delivery team then such an app can act as a boon to it. A food delivery app can take care of the timely delivery for a fee. The delivery charges can be a percentage of the price of the order or otherwise a flat price as per the distance. This is a good approach for a stable income and coupled with other sources of income such as charges during peak hours it can benefit you a lot in monetizing.
Commission from food joints
Based on the order size the online food delivery apps can collaborate with restaurants on predefined commission charges. The size of the commission may vary depending on the restaurant's level, its average revenue and other factors.
Peak hours
This monetizing technique of charging extra during peak hours can help you to generate extra revenue. For instance, UberEats limits the menu items and locations during peak hours and charges an extra fee to make them available. Though it has its advantages, it also welcomes some demerits. If your customer finds cheaper prices from your competitor he would simply switch.
Advertising
Advertising can give an awesome boost to your business. Featuring certain restaurants on the top of the search results by charging an extra fee can help you to generate extra revenue. Be careful to first check the restaurant's feedback in order to ensure customer satisfaction.
Which industries are benefitting from on-demand delivery apps?
There are several industrial sectors that are witnessing a renaissance in the way they operate after the arrival and growth in demand for online apps. Some of them are listed below.
HEALTHCARE
With the on-demand apps it is now possible to book appointments and even get blood reports and other medication with the comfort of the tap of your finger.
FOOD
Zomato, UberEats etc. are the prime examples of the value of online delivery apps in the food business. These apps have bridged the distance between the restaurants and the customers and provided them with the convenience of having a meal at the comfort of their home.
ENTERTAINMENT
Whether it is about social media, audio, video etc. on demand apps in the entertainment sector are revolutionising the industry.
DELIVERY
Players like Big Basket have proved that on-demand apps are one of the best ways to have a two-fold advantage-one of boosting the sales and second providing customers a convenient experience.
PERSONAL CARE
From salon booking to wedding bridal makeup, whatever your needs are now you need not abide by the hectic traditional path of extensive searching. Just use your phones and choose the best nearest to you.
TRANSPORTATION
Uber and Olas have fulfilled the desires of many to travel with the entire family in cars. The online delivery apps are changing the face of how transportation works to make the lives of citizens better and better.
Listen From Our Clients
We've helped many clients globally to solve complex business problems with our developed mobile app solutions. Our collaboration with clients results in a long-term partnership. Check what they have to say about the services they have received from us.
Spain
Online Betting Platform leveraging Blockchain Technology
Director
FAQ's
We are a leading mobile app & web development company with relevant industry experience. We work closely with clients from ideation to mobile app mockups to successful launch. We specialize in professional custom eCommerce website development solutions for businesses large and small. Since our inception, we have developed more than 50 eCommerce web portal.
Anybody can make an eCommerce store for their business provided if they do not exactly copy the assets and code directly from the original website. There will be no issues regarding copyrights as we will develop a website from scratch with improved design, unique features, and functionality by analyzing the existing big eCommerce giants.
Yes, we can provide you with full-time dedicated developers. Our developers will work 40 hours/week on tasks shared by you. In order to hire them, just post your project requirements, get the list of shortlisted developers with detailed work experience including per hour cost, and select them as per your requirement.