How To
Develop An E-Learning App Like BYJU's?
About E-Learning App BYJU's
The educational sphere is being greatly transformed these days by the welcoming changes driven by smartphone technology. Byju's success in India has impacted the educational process, making us innovative and more progressive in m-learning space.
BYJU's is an ed-tech startup that has got more than $244 million in funding.  Even the founder and CEO of Facebook, Mark Zuckerberg, have invested a huge amount in this personalized learning platform.
With witty tagline 'fall in love with learning,' Byju's has created a revolution in the field of e-learning. Byju's is India's first educational unicorn startup that has secured Billion dollar valuation, after getting funds in the initial rounds. Byju's success in India has definitely disrupted the learning system. Apps like Byju's and Topper make us visualize the power of innovative and more progressive mobile-learning solutions. Apart from making the education process more engaging and interactive, it also assures providing a comprehensive standard of education with ease, effectiveness, and simplicity.
BYJU's started its journey with its founder Raveendran in 2011. The teaching pattern of Raveendran made him the most demanded tutor among CAT aspirants. And this constant demand increased from a small room to a seminar hall, and further, it spread to different states as well. And by the year 2008, he registered his company named 'Think and Learn Private Ltd' in 2008. And now, this company is known as Byju's learning app.
The company made its first U.S. acquisition in January when it bought education games startup Osmo for $120 million. And, Byju's has plans to expand into more English-speaking countries, as well as more countries in Asia. Education & eLearning have appeared as influential business models. Creating a mobile-centric learning platform is indeed a profitable investment.
By associating with the WebClues Infotech educational app development company, you can launch a learning application that makes learning more addictive.
WebClues Academy is a comprehensive, e-learning white-label solution, transforming teacher-student interactions to facilitate upskilling from anywhere in the world. Let's explore how white-label solutions like these fare better than custom-made applications
White Label Solutions (WebClues Academy)
Being ready-to-market solutions, they are reasonably cost-effective.
Provide a quicker route to market. Ready to launch within four to eight weeks.
The Chances of under-delivery are significantly lower as they are tried and tested.
Check Out Demo Video
Custom Software Development
Require a larger investment as each element is developed from scratch.
Depending on functionalities and features, the development phase can last up to several months.
Often delivers less value than predicted and hence risk factor is relatively higher.
Custom Development Timeline
Adapt modern approaches to learning with "WebClues Academy" App
WebClues Academy is a customizable ready-made eLearning solution that offers students the highest quality online education. The app provides high-quality content with many impressive features such as Live Lectures, Custom test assessments, Announcement sections, etc. to enhance the learning skills of learners. The app is revamping the style of providing and receiving education. Watch the video below to know more about the functionalities incorporated into the platform.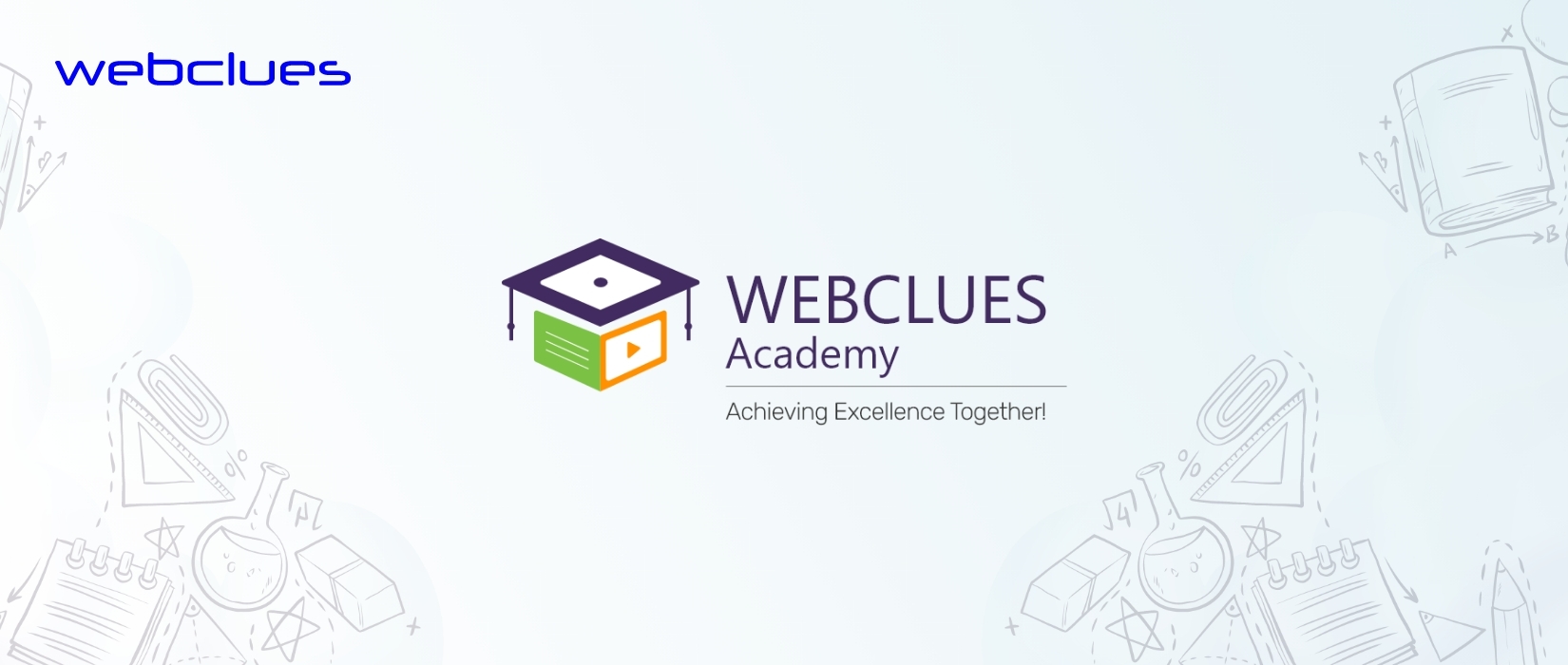 Benefits of e-learning application
01.

Convenient and flexible access

02.

Multimedia learning content

03.

Personalized learning paths

04.

Instant feedback and tracking, Available 24/7
05.

Engaging and interactive

06.

Cost-effective solution

07.

Detailed reporting

08.

Transparency for Stakeholders
eLearning apps offer a convenient and flexible way to access education, allowing individuals to learn at their own pace and on their own time. With bite-sized lessons, gamified quizzes, and multimedia content, eLearning apps make learning fun and engaging. Whether you're looking to learn a new skill, advance your career, or simply satisfy your curiosity, eLearning apps are the perfect tool for achieving your goals.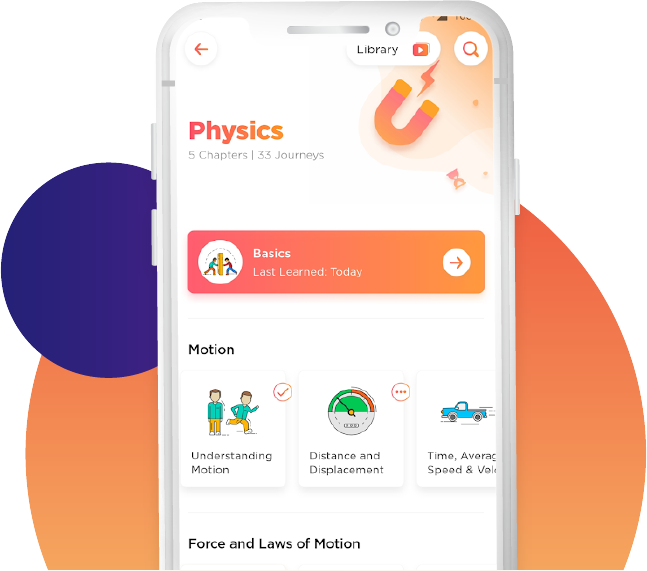 E-Learning App's Key Functionality
E-learning mobile apps offer users the freedom to access learning content through podcasts, videos, and other mechanisms. But in order to create a successful eLearning app, certain functionalities must be taken into account. Let's take a look at the basic and essential functionalities required to make an eLearning app portal a reality.
Login / Registration

User profile

Course Listing

Subscription

Online Study Material
Quiz

Attendance

Gamification

Events / Newsletter

Connect Parent
Data Analytics

Live Chat

In-App Video or Voice Calling

Screen Sharing & Recording

In-App Wallet
Advanced features which can be included in an e-learning app
Byju's offers highly interactive CAT, Civil Services Examination, GMAT, GRE, and School Education online coaching classes. With exceptional performance, integrity, and security, Bjyus provides an inclusive learning model. Every educational institute is taking the benefits of technology to provide a smarter way of learning apps.
To make your eLearning mobile application stand out on the competitive grounds, it is essential to provide something extra and different from what your competitors are serving to their potential audiences. There are several benefits associated with the eLearning portal and by including the below-mentioned features; you would create better user engagement.
01.
In-app payment
For the practice sessions, learners look for the course and other training material within the app only. The learners can make a payment through any of the multiple payment modes offered on the app.
02.
Online Examination/Mock Test
Providing the online Mock tests and examination in the application itself is good for kids/students preparing for the examination. It helps them to prepare much better.
03.
E-learning analytics
By including E-learning analytics in your app, you provide invaluable insights to the learners about their performance; improving learners' understanding and learning. It can profoundly change how education is administered.
04.
Push notification
Push messages help learners to interact and get engaged easily. Send learning tips, shortcut tricks, etc. in the easiest & engaging way. Blend push notification with regular learning and allow students to stay updated regarding upcoming classes and other updates in the course content. This helps in the smooth functioning of the learning concept as well.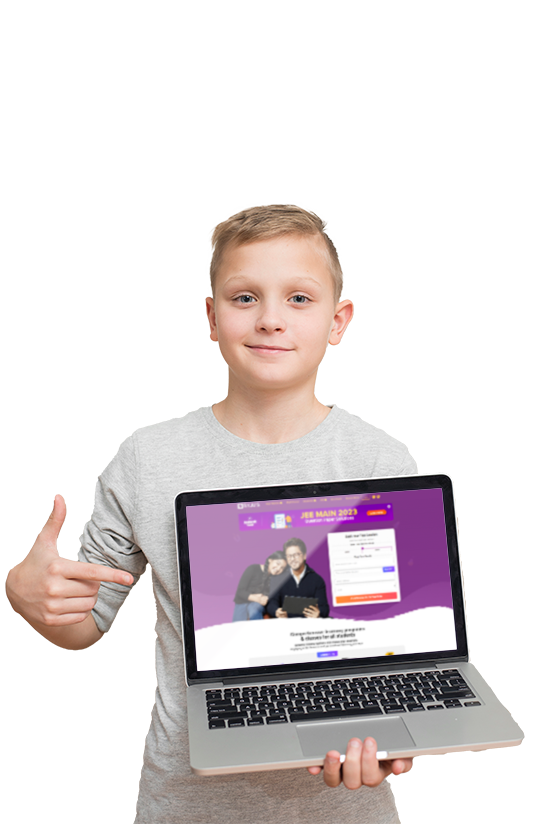 05.
Gamification of learning
The Gamification of the learning process has showered the magical effects. It has encouraged students and tutors to develop an interest in online learning. It opens creative ways of learning and keeping the excitement alive in learners.
06.
Quizzes to Earn Points
This feature will increase the usability of your application. Through this, A number of students can join the quiz provided by you to earn points. Further, students can redeem these points to download e-books, study material or videos.
07.
VR-enabled app
E-learning is all about offering convenience and engagement. Nothing can accentuate the user-engagement better with the latest technology advancement, and that is Virtual Reality. With VR your audience can learn and understand much better.
08.
Offline Mode
A stable internet connection is a matter of concern in many parts of the country. So, the app must be capable of offering an offline mode, where students can download the modules. This can keep their interest alive in your app, and they'll visit the app whenever needed, to seek information offline as well.
Educational e-Experts: Mastering eLearning and App Development
We have developed cutting-edge eLearning platforms that have been featured on top platforms and made a lasting impact in the online education space. Our apps are renowned for their interactive designs, top-level user experience and advanced features that appeal to global trainers and trainees. We continuously strive to surprise our users with our innovative approach to creating engaging and effective learning experiences.
01.
On-demand Education Apps
02.
Online training app
03.
Virtual Classroom Apps
04.
Corporate eLearning app
05.
Mock Test Apps
06.
Quiz Apps
07.
Exam Preparation Apps
08.
Preschool Education Apps
09.
Language learning apps
10.
Online Entrance Examination Apps
11.
Study aids and flashcard apps
12.
Gamified Education Apps
13.
Coding and computer science apps
14.
Video Streaming Learning Apps
15.
Mind Mapping and Study Planning Apps
E-Learning Market Soars to a Whopping USD 645 Billion by 2030
The concept of eLearning is growing rapidly and is expected to gain even more momentum in the coming years. Its combination of low cost, high convenience, and accessibility is transforming it into the predominant global education market. We can observe its growing prevalence in various geographic markets, empowered by emerging technologies and tools that support eLearning, and the swelling role of social learning as a top learning and development (L&D) priority. The E-Learning market is estimated to grow at a compound annual growth rate of 13% and reach a market size of USD 645 billion by 2030. These trends suggest that eLearning is an increasingly viable education option that is worth exploring.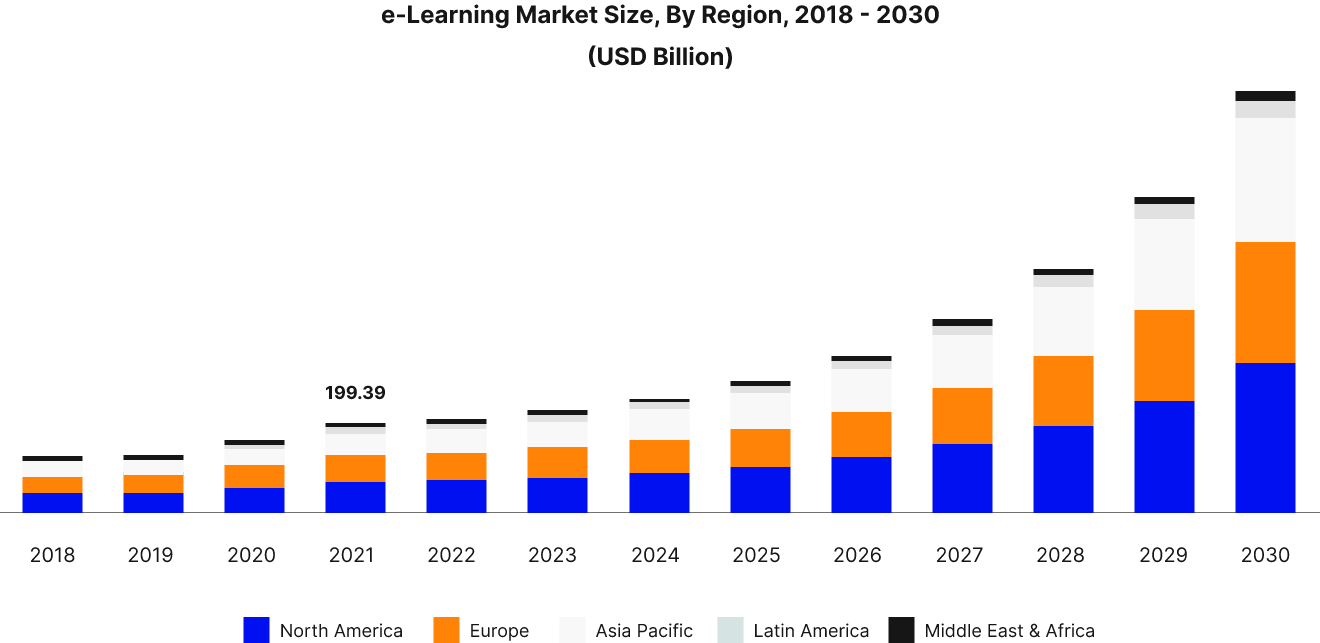 We are a CMMI level 5 certified company
Our innovative process, technological improvements, and relentless commitment to delivering the finest quality of services to our clients have made us earn this authoritative certification.
Panels & features required for developing an app like BYJU's
Imparting quality education is surely a cause in itself, but doing it the way platforms like BYJU's requires a well-depth knowledge of digital and physical infrastructure. There is an integration of different panels and features to be associated with this platform. Take a look at the technological advancements to be integrated further.
| Student Panel | Parent's Panel | Teacher's Panel | Admin Panel |
| --- | --- | --- | --- |
| Sign up/Login | Sign up/Login | Sign up/Login | Class/Grade Management |
| Profile Creation | Profile | Profile Creation | Subject Management |
| Subscription Selection | Connect Student | Dashboard | Chapter Management |
| Course Listing | Notifications | Student Management | Topic Management |
| Course Details | Admin Announcement | Class Creation and Management | Content Management |
| Online Tests | View student Profile | Contest Creation | Test Management |
| Quizzes | Student Report | Class Reports | Student Management |
| Online Contests | Buy Courses/Subscription | Student Reports | Parent Management |
| Push Notifications | Payment | Notifications | Teacher Management |
| Purchase history | Contact Admin | Contact Admin | Contest Management |
| Newsletter/Forum | | | Payments/Subscription |
| Refer and Earn | | | Reports |
| | | | |
Timeline to build an app like BYJU's
Building an app like BYJU's involves a series of steps. The timeline depends on the company you hire and the platforms, tools, and technologies used. To guarantee a smooth user experience on both web and mobile platforms, a comprehensive knowledge of the technology and the market is essential. With an understanding of all these elements, typically it takes between 1500-2500 hours to create an app like BYJU's.
Deliverables

Module
Sub-module
Description
Estimated
Hours

Admin

Login
Login with Email and Password
Login activity with validation
8
Forgot Password
Forgot Password
Reset Password
4
Grade Management
Add/Edit/Delete/List/Search
Listing
Grade Listing (Active/Inactive)
30
Add/Edit
Enter the grade name, Grade wise term end dates,subscription amount for each grade
Subject Management
Add/Edit/Delete/List/Search
Listing
Subject Listing
26
Add/Edit
enter the subject name and upload an image for a subject
Chapter Management
Add/Edit/Delete/List/Search
Listing
Chapter listing, active & inactive chapter,review chapter topics
26
Add/Edit
select the grade and subject for which they want to add chapter name & color
Topic management
Add/Edit/Delete/List/Search
Listing
Chapter wise topic listing, active & inactive topic,view topic's content
32
Add/Edit
all topic for each chapter
Delete
delete all the relevant data
Content management
Add/Edit/Delete/List/Search
Topic wise content listing, active & inactive content ,view content
80
Add New content
Add content for each topic
Edit content
Delete content
Test Management
Add/Edit/Delete/List/Search
Questions listing, active & inactive questions
80
Add New Questions
And question, question type, explanation, etc.
Edit Questions
Delete Questions
Student Management
Edit/Delete/List/Search
Student Listing,active/inactive student, view student details
18
Edit student
Delete student
Parent Management
Edit/Delete/List/Search
Parent Listing,active/inactive parent, view parent details
18
Edit Parent
Delete Parent
Contest Management
Add/Edit/Delete/List/Search
Contest Listing,active & inactive contest,view contest's questions,View results
45
Add New Contest
ad contest title,image or video start/end datetime,Grade, subject, covered Chapters,eligibility etc.
Edit contest
Delete contest
Contest Question Management
Add/Edit/Delete/List/Search
Contest Question Listing
32
Add New Contest Questions
add mcq questions, answers etc.
Edit contest questions
Delete contest questions
Payments Management
List/View
Listing all user payment details
32
Contact Us Management
List/View
listing of the messages received from the user
12
show the name of User/ parent, contact number and message received from the user
CMS Management
Add/Edit/Delete/List/Search
CMS Listing
20
Add New CMS
add title,code,page etc.
Edit CMS
Delete CMS
Dashboard
20
Report
Will decide while development phase
32
Site Settings
Edit
Edit site setting
18
Logout
1

Student Application - Android/iOS

Signup
Register with mobile number
40
Create profile
Enter profile details
Verify Mobile number
Enter profile details
Select Grade
Enter profile details
Login
Login with Mobile number verification
16
Forgot password
My Profile
View/ Edit Profile
Edit profile information
40
Parent connect
Connect to parent app Generate OTP
Invite friend
Invite friends
Get free trial to courses
Buy courses
Purchase package
Home screen
View Subjects
32
Bottom Menu
Subject Detail Screen
Chapters
View chapter wise score and progress bar
120
Topics
View Topic wise score and progress bar
View all content in a topic
Tests
Take test
View results & correct answers
Re Attempt the test
Questions
Type of questions are MCQs & comprehension type
Quizzo
Play quiz with friend
"View friends
Select subject
Select friend
send invitation
Play quiz
Win trophy
100
Play quiz with Alone
Select subject Play Quiz
Score
View score of opponent
Winner will get 1 trophy
Each question will be for 15 sec.
max. 10 question for quiz
Contest
Upcoming contest
Time based Chapter wise contest
Show instructions
110
Live contest
Show result
Show correct answers
Check eligibility
Appear in contest
Previous contest
View results
Practise contest
View correct answers
Payment
Online Payment for particular Grade
Student will have access to Grade content for that academic year
40
Free trial period
Chats
Create friends
Send/ Accept friend request
Unfriend option
Search new friends
60
Chat
Textual chat
View profile information
Search friends
Push notification
32
Contact us
4
CMS
4
Logout
2

Parent Application - Android/iOS

Sign up
Register with mobile number
16
Login
Login with Mobile number
10
Forgot password
Connect student
Connect Multiple student
Switch student to view report
24
Notifications
Student's activity notification
32
Profile
Change password
6
View student profile
28
Student report
Chapters
View Student
report Scores & time spent
32
Payment
Make payment for connected students
Student will have access to Grade content for that academic year
24
Contact us
4
CMS
4
Logout
2

Other

| | |
| --- | --- |
| Business Analyst | 80 |
| Database Design | 40 |
| Application Design | 120 |
| Web service | 350 |
| Project Management | 150 |
| Quality Assurance | 260 |
| Server Setup and Configuration | 40 |
| Deployment | 40 |

Total Estimated Hours
Technology Stack For The App
If you're looking to develop an eLearning app, it's important to know the required technology stack to make sure your app functions smoothly. There are a variety of frameworks and languages available to make your app work, synchronize, and run across both web and mobile platforms. With the right technologies and frameworks, you can ensure that your eLearning app is optimized and runs efficiently. To give you a better idea, here's a quick sneak-peek of the technologies you'll need to consider for the development of your eLearning app.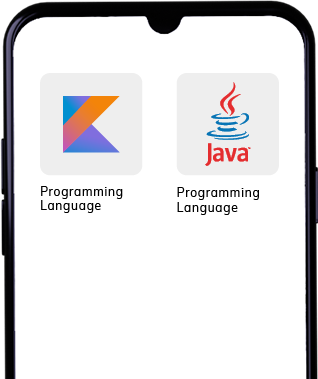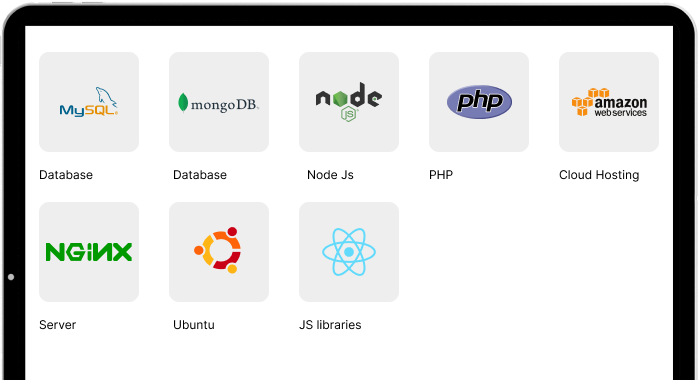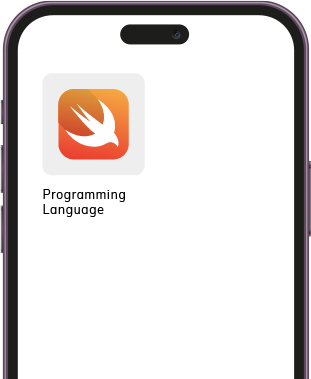 How Does E-Learning App Like BYJU's Work?
BYJU'S is India's largest education technology company. It aims to provide highly adaptive, engaging, and effective learning programs to students.
Byju's has improvised the way students access education and gain knowledge. Unlike other e-learning apps, BYJU's has reinvented how students learn in the age of mobile devices. With the BYJU'S, you get an approach that is combined with world-class teachers, proven pedagogical methods, innovative technology, and data science to deliver a personalized learning experience to students across the globe.
It has been designed to explore the future of education and provides an integrated platform for the benefit of educational entities like students, faculty, schools, and other educational institutes. Byju's offers an amazing platform to the users where they can enjoy the gamification of the education, and increase their interest and engagement further. The technical expertise behind BYJU'S helped various educational institutes & training centers.
Features That Impact Cost Of An App Development Like BYJU's
A mobile app can be built into a super-successful formula, with the integration of an improvised set of technology and trending methods. However, these factors, give a trigger to the app development cost to a larger extent. Find out more about those factors that can increase the cost of development of an app like BYJU's.
Guidance for competitive exam
Free of costs videos on general knowledge and current affairs
Suitable subscription offers
Chat/messaging service to get immediate support
Use of modern digital animation & illustration
Essential Components To Build An App Like BYJU's
Developing mobile apps requires meticulous research about a particular idea. You have an idea, but transforming them into a virtual platform requires various aspects to come into practice. And while practicing such factors, you must consider the facts behind, as they influence the development cost to a larger extent.
Highly experienced & dedicated E-Learning app developers at WebClues Infotech are well aware of the ins and outs of the e-learning app solutions and promise to provide incomparable education application development solutions at affordable prices.
01.
Platform
The platform becomes an important and primary aspect of app development. You need to research and understand which is the most preferred platform by your audience. Pick the most suitable platform as per your target audience.
02.
Functions and Features
The functions and features are very important in application development planning. An application without good & latest features cannot sustain in the market. The features keep renewing to draw the attention of the user. So pick a balanced approach that can help your app to grow and provide a scope to add new and interesting features in the app.
03.
Hosting
App hosting is an important step because that makes it live for the general public to download. Select the best hosting platform that will fill the requirements of your users and helps your app portal to run smoothly.
04.
UI/UX Design
UI/UX affects the cost to a greater extent, but picking the right strategy and designer will help you to attract a larger number of audiences. Also, a great design works in your favor and help your users to stay glued to your app and become loyal customers.
05.
Security
Security is the major concern that must be addressed well in your mobile app. Take every required measure to ensure seamless security for your mobile app. Though the effective security methods consume money but take them as an investment for your app.
06.
Company or a freelancer
Hiring a freelancer might sound very appealing, as you tend to spend less in the development cost, but you must know that a proven skilled app development company comes with experience and expertise to handle your app requirements. So, make a wise decision and select the experienced company over a cheap freelancer.
How Much Does It Cost To Create E-Learning App Like BYJU's?
The cost of developing an E-learning app depends on various factors such as the complexity of the app, number of features, set of technology to be integrated, number of third-party APIs that are going to be a part of the app, etc. Further, the cost also depends on the educational app development company that you partner with.
• In North America, it will cost you around $60-$250 per hour.
• In Europe, it will cost you around $40-$120 per hour.
• In India, it will cost you around $15-$40 per hour.
By associating with the right eLearning app development company, like WebClues Infotech, you can develop an app like Byju's, with a user-centric approach, and can turn app development a profitable investment for your business.
We have a deep understanding of our customers' business. We focus on achieving customer-centricity by delivering our services within time and with the utmost quality.
Yes, an e-learning app must be built for multiple platforms, since it is not certain that which all type of students will access your app, and which all devices they would be using. Therefore, the multi-platform feature will help your app to grow popular among the wider user-base.
There are several trending technologies that can enhance the eLearning experience for students and educators, including: artificial intelligence (AI) for personalized learning, virtual and augmented reality (VR/AR) for immersive experiences, gamification for engagement, cloud computing for scalability and accessibility, and mobile technologies for anytime, anywhere learning. Additionally, blockchain technology can be used for secure data management and certification. The implementation of these technologies can make eLearning more interactive, personalized, and efficient for all involved.