Our battle against climate change is one of the most crucial ones that we, as a planet, are fighting today. With climate change knocking at our doors like an insistent delivery person, it's high time we confront the daunting challenge of reducing emissions. Using the raw data from the International Energy Agency (IEA), Climate Watch analyzed that while 75% of greenhouse gas emissions come from energy consumption, electricity consumption by businesses and consumers alike accounts for more than 40% of it. These numbers suggest that the planet calls for our innovation and resilience to be able to win this battle. But how? Enter blockchain technology. With the power of decentralization at its core, it can prove to be incredibly instrumental to help nations reach their target of Net Zero Emissions by 2050.

(This target of "Net Zero Emissions by 2050" is a part of the Paris Agreement, signed by 194 countries at the UN Climate Change Conference (COP21))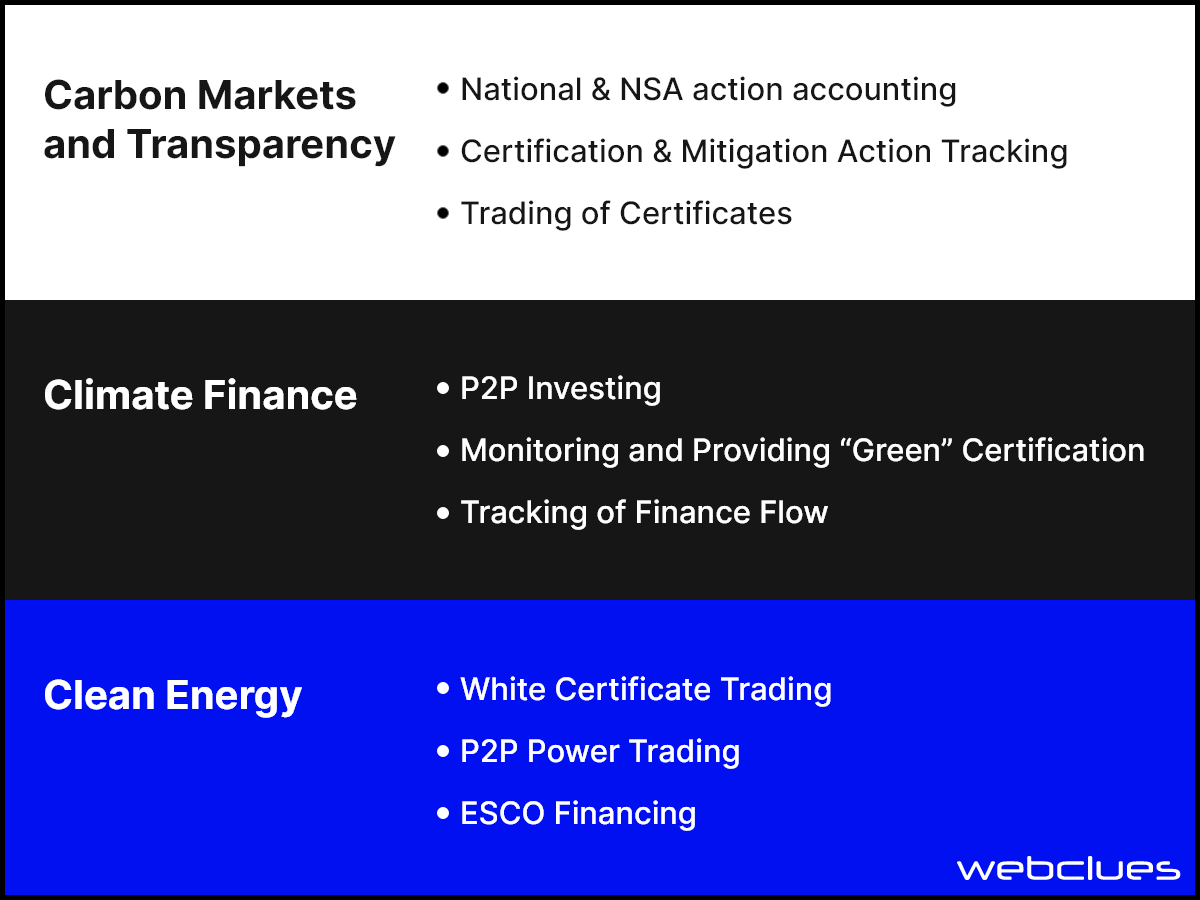 How Are Blockchain & Energy Consumption Related
Most people in the climate space recognize blockchain in connection with its energy-intensive application associated with Bitcoin mining. The high-energy consumption by Bitcoin can be attributed to a process called "Proof of Work" (PoW), which it uses to add blocks to its blockchain. This involves computers engaging in a competitive race to solve a mathematical puzzle called mining. As additional blocks are added, these puzzles become increasingly challenging, requiring more and more computational power to solve them.
So no doubt, Bitcoin mining requires a lot of energy! However, this does not mean blockchain in general has harmful effects on the climate. If anything, it has immense potential to unlock new climate solutions. In fact, several new and existing blockchain networks like Ethereum, Solana, etc., are switching to a substantially less energy-intensive 'Proof of Stake' process from PoW. Research suggests blockchains utilizing the PoS process 0.001% of the energy that Bitcoin does. This further solidifies that blockchain can play a vital role in addressing climate challenges.
How Blockchain Can Drive Climate Action Forward
The fact that multiple industries are seeking blockchain consultation for its implementation in their process shows the tremendous potential of blockchain to revolutionize these industries. However, its impact transcends beyond that and extends to the realm of renewable energy and carbon reduction. With its superpower of enabling accurate, trustworthy, incorruptible, and decentralized data flows, blockchain technology can significantly accelerate climate action.


Optimizing Carbon Emission Trading
If you're unaware of the concept of carbon credits, they are permits that limit a company's carbon dioxide or greenhouse gas emissions. Each credit allows the release of one ton of carbon dioxide or its equivalent. These credits serve as a means to curb emissions and encourage businesses to reduce their carbon footprint. Unused credits can be sold to companies in need, creating a double incentive for emission reduction.
Putting carbon credits on a blockchain can prove to be game-changing when it comes to tracking and managing carbon emissions. Blockchain can facilitate accurate, immutable, and accurate accounting of carbon credits. Leveraging smart contracts and distributed ledgers to track emission reductions can ensure unrivaled precision. Furthermore, blockchain applications can enable the use of carbon credits as a form of currency, potentially driving up their market value.
KlimaDAO, a prominent decentralized organization, collaborated with Toucan Protocol and brought over 13 million tonnes of carbon (around 5% of the world's global voluntary carbon market) onto the blockchain. It utilizes the concept of DeFi and allows users and Web 3.0 builders to participate in carbon trading through the KLIMA token.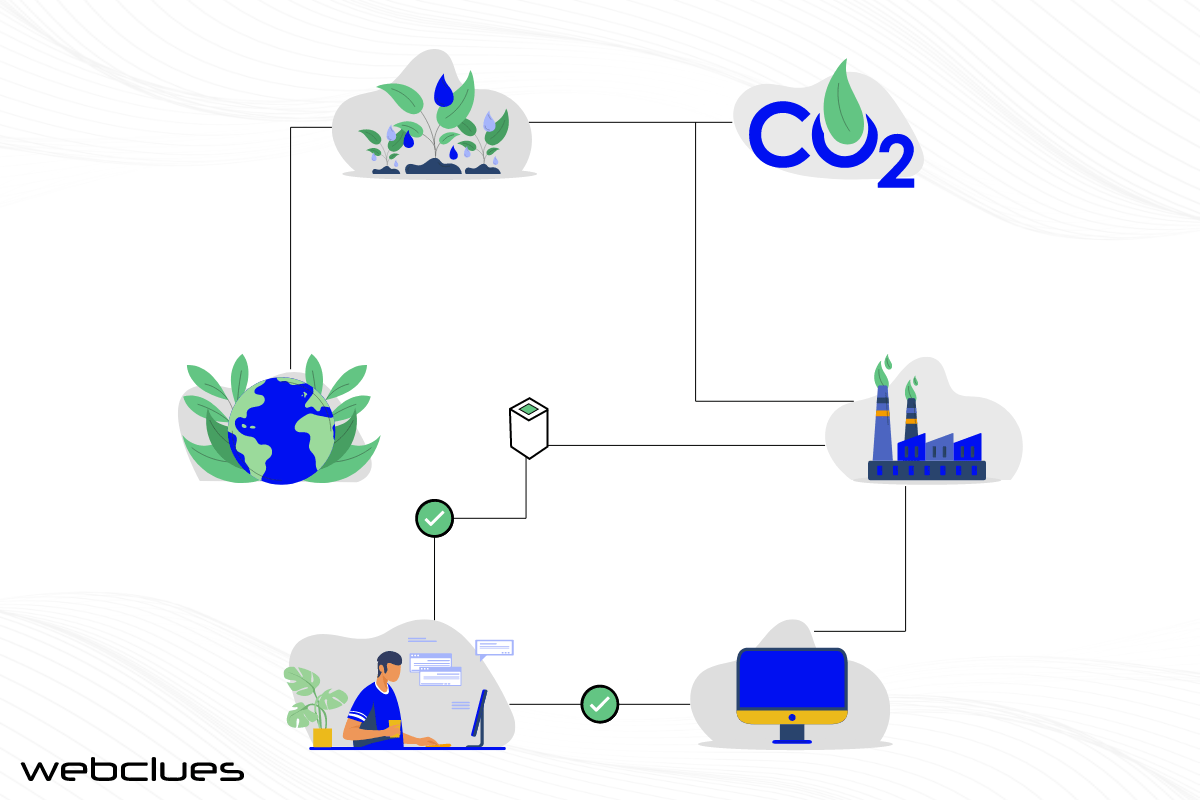 Unlocking the Power of Peer-to-Peer Energy Trading
Blockchain has the ability to democratize the green revolution by allowing end users to actively participate in the pursuit of net zero emissions. Utilizing trusted blockchain development services, applications can be created that facilitate peer-to-peer energy trading. Imagine having solar panels on your rooftop and selling excess energy directly to your neighbors. This transformative shift wherein users can buy or sell energy using tokens or digital assets stored on the blockchain can help us achieve a sustainable and decentralized energy ecosystem.


Simplifying Finance Flow for Climate-Related Projects
It can be daunting for traditional banks to finance certain climate-related projects, especially those in politically risky or isolated regions as well as those that are small-scale. Blockchain can make it much easier by enabling the secure, trustworthy, and accessible transfer of money. By creating access to decentralized finance (DeFi), blockchain technology can drastically promote sustainable development.
Bringing Diverse Stakeholders Together for a Greener Future
For empowering climate action, it is crucial for governments, businesses, and individuals to come and strive together, transcending boundaries and industries. Blockchain can certainly facilitate this collaboration among diverse stakeholders and allow them to work together on emission-related projects. It can accomplish this by enabling seamless and transparent sharing of data among them. Moreover, blockchain can provide better access to precise climate data for all organizations, facilitating a better understanding of climatic patterns. This knowledge can lead to effective mitigation of climate risks by enabling prioritization, protection, and insurance of specific projects.
This way, partner organizations can hire expert blockchain developers and consultants to help them break silos, share knowledge, and accelerate progress toward their shared goal of a greener future.
The Bottom Line
As the clock ticks relentlessly toward 2050, our efforts to reach the target of net-zero emissions must intensify. With the help of blockchain technology, the challenge can become significantly less daunting. It can let us trace the carbon footprint of every product, monitor renewable energy, and reward sustainable practices. Under the Paris Agreement, all member countries need to implement their Nationally Determined Contributions. Blockchain technology can prove useful to record a country's progress toward this implementation as well. In essence, climate policymakers can efficiently record and access accurate data and reporting of climate action.
Finally, it is important to understand that in order to reach the target of net zero emissions by 2050, private organizations must chip at an individual level as well. Harnessing the power of blockchain can greatly help them do their bit. So if you too as an organization or institution are willing to contribute to making net zero emissions a glorious reality by embracing the potential of blockchain, we can help.
At WebClues Infotech we provide comprehensive blockchain development services – be it for contributing to climate action or any other application for that matter. To hire our expert blockchain developers, connect with us today!