Do you want to attract more customers? Of course you do!
Then, you should know that online booking options can attract more clients. According to a 2018 survey, more and more people are frustrated by booking appointments on the phone and are turning to online booking methods.
Recently, we partnered with a hotel and car renting platform to redesign their website. To address trends surrounding scheduling issues, we focused on creating a responsive and easy-to navigate website. The primary goal of the project was to simplify the booking process for our partner's clients.
The project was successful and, recently, our partners gave us a 4.5 star rating on Clutch!

A B2B tech company, Clutch provides unbiased information on various service providers—helping businesses like yours find the right partner for upcoming projects.
Since joining the platform, a dozen satisfied customers have left reviews on our Clutch profile, giving us an impressive average rating of 4.8 stars out of five!
We're thankful to have such great partners who take the time to give us such valuable feedback. Our team is dedicated to creating user-friendly platforms that help our partners bring in more customers. We create beautiful designs that work because our partners' success is our success.
In another one of our Clutch reviews, our partner claimed that our work has given their business the leg-up it needs:
"Their projects have given us a significant advantage over the other software providers in the industry." Giving us a perfect five (5) star review, this partner highlighted our team's ability to manage project tasks and deliver everything on time.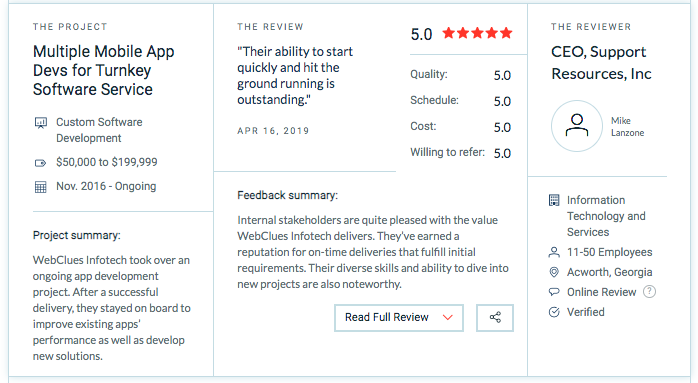 As a result of our dedication to our partners' success, we've separated ourselves from other vendors.
We've been included on The Manifest's lists of top performers in India. A business news and how-to platform, The Manifest compiles hard data, expert insights, and actionable advice for business innovators. Most importantly, it creates lists of vendors who have histories of successful business partnerships.
To find out more about our team's skills and how we've been able to address our partner's problems, you can check out our profile on Clutch's other sister site, Visual Objects. A highly visual and image-heavy portfolio platform, you can easily compare our work to our competitors.
For a sophisticated and high-end solution, contact us online. As you one-stop IT service provider, we can grow your business by taking care of your web and mobile development needs.